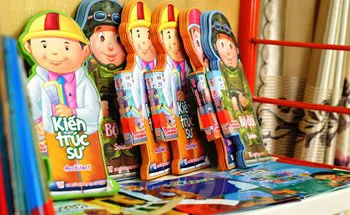 Kien's 100 square-foot home looks even smaller among the vast tea fields of Vietnam's Dai Tu district. His single mother, Huong, waits at the foot of these fields every day, hoping to be hired as a laborer, where she'll pick 22 lbs. of tea leaves in exchange for 9 US$.
As his mother works in the hills, Kien rides his bicycle to and from school, cooks dinner, and does his homework before she returns. Inside their home hangs a single bulb – the only source of light after dark.  Yet under this beam, Kien read hundreds of books borrowed from Room to Read's library - just one reason he was given the fourth grade 'Reading Star Award.'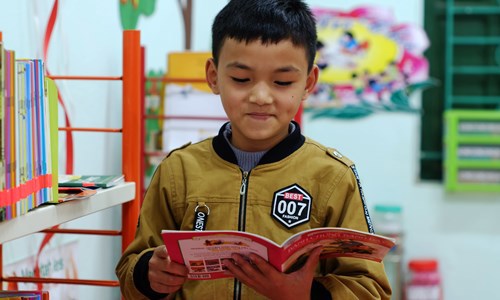 "My favorite place at school is the library. When I have free time, I really love reading books in there," he says, eyes sparkling.
For the last three years, Kien has checked out at least two books each week, ranging from novels and historical books to science texts. On average, he reads more than 100 books per year.
"Kien made a strong impression when he was just seven years old. Most students his age still love playing instead of reading. But Kien always wanted to read books and borrowed many with enthusiasm," says Ms. Sang Nguyen, the librarian at Hoang Nong Primary School.
Kien's love for reading has also helped him thrive in other subjects, such as Vietnamese.  
"Kien's Vietnamese writing is very rich in imagination and words. He can read fast and fluently well beyond our expectations. I think reading books at the library has greatly contributed to Kien's excellent language capacity and impressive literacy rate," says his teacher, Tuyet Nguyen.
Besides reading, Kien is also an active member of the Library Support Team, a group of students which helps young children check out books and organize the library after break time.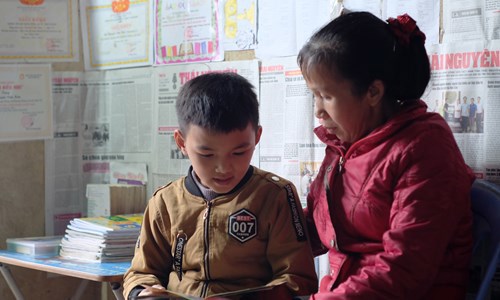 Kien's love for books has also enhanced his home life. After long days at work, Huong and Kien sit together and explore new worlds on the page.  
"My mother's eyes cannot see everything well, so I often read stories for her. When she is not tired, she also reads books to me before bedtime.  I feel very happy when we get to spend this time together," says Kien.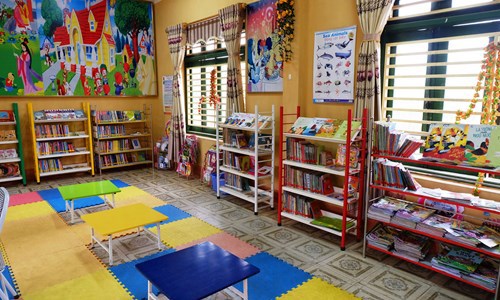 Kien isn't the only one who enjoys the nightly ritual.
"I did not have a quality education. My life is full of hard labor with very little income. So, when I see that my son really loves reading books, I am very happy. Even though I cannot read well, I always sit with him, listen as he reads, and talk with him about the stories. I want to encourage his love of studying and reading as much as possible," says Huong.
When Kien grows up he wants to be a teacher to help other students acquire as much knowledge as he has. He talks about this dream while sitting next to his mother – his small hand rests in her wrinkled palm.
Beside them sits Thach Sanh, a newly-checked out Vietnamese fairy tale. He keeps glancing down at the book, eager to read it just after they finish dinner.