The COVID-19 pandemic has led to dramatic changes in the lives of children around the world — time spent in the classroom has transformed into more time spent at home, causing notable changes to education.
To illustrate the changing education landscape, the Financial Times recently published a photo essay that profiles two Room to Read students and shares their path to learning during the pandemic. We'd like to introduce you to one of these students, nine-year-old Joshua.
Joshua and his family live in Tanzania, where Room to Read first introduced our Literacy Program in 2012. With support from IMC Trading, Room to Read has since expanded across the country and into the Pwani Region, where Joshua attends school.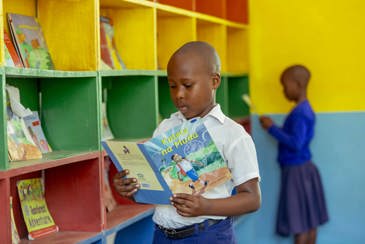 Joshua's school library offers local language children's books and reading materials published by Room to Read. When lockdowns started in March 2020 and schools officially closed their doors, Joshua's grandmother — a grade 2 teacher herself — prepared for how she would support her grandson's schooling while he was at home. To her surprise, Joshua had more resources for remote learning at his disposal than she anticipated. She had not considered Joshua to be an independent reader, and was quite surprised when she found him taking books out of his backpack to read at home. She noted that, prior to school closures, Joshua rarely visited the library or checked out books. But, after two days of at-home learning, his backpack was filled with storybooks. In response to his grandmother's questions about the books and his seemingly sudden interest in reading, Joshua said,