As a leader, girls' education has opened the door to amazing new experiences, like joining Michelle Obama, Ava DuVernay, Yara Shahidi, Maya Soetoro, Tina Tchen, Catharine Bertini, Billy Porter, and many more at the 2019 Obama Foundation Summit – an experience I would never have imagined.
As a selected leader from the Obama Foundation's Girls Opportunity Alliance Network, I flew to Chicago to join other leaders from around the world to attend the Summit and a side event for the Girls Opportunity Alliance to discuss our efforts to empower girls through education and continue building a network of strong, inspired leaders. I sat next to Michelle Obama and listened to her inspire the audience as she pushed us to "Show up in your places of truth, with your full story intact" and never lose sight of that truth or let anybody tell us that it's not of value.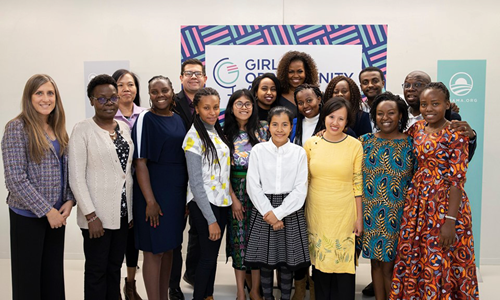 As women, there is so much value in our stories and our experiences, and it's important to be reminded of that and make sure others realize the power of their story and their voice! Getting to meet Michelle Obama and other leaders was my reminder of how I can continue using my story and experiences to uplift the Vietnamese community and define new pathways for meaningful and impactful work that creates a gender equal world.
The same concept of gender equality and independence that shocked me 10 years ago in "A Dolls House" is now my vision for the world! Investing in education is the most sustainable investment. All girls deserve education, no matter what.
As Room to Read focuses on ending the impossible in the lives of boys and girls around the world, I'm proud to be a part of that mission. I want to build a world in which, we all have the resources and support to reach our potential, regardless of gender. In December, Room to Read, and the Girls' Opportunity Alliance will be in Vietnam to shine a light on important efforts to empower girls. Our collaboration hopes to equip more girls with the critical skills they need to become leaders in their own right and build a brighter future, redefining the boundaries of what they think is possible!