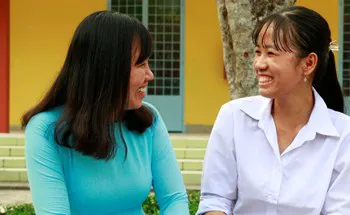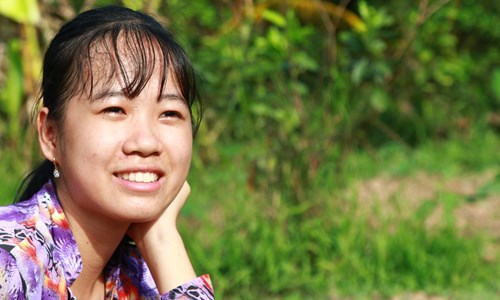 In March of 2019, Thuy traveled from Vietnam to Hong Kong to share her story with Room to Read supporters for our annual regional gala. Here's the moving speech she shared:
Dear ladies and gentlemen,  
My name is Thuy Dinh. I'm from Tra On, Vinh Long province, Vietnam. I am the first child in a family of five: my grandfather, my parents, my younger sister and I. We all live together in a small house on May Island, where it took me 1.5 hours every day on a ferry to get to high school each day. But as you've seen in my film, the distance was hardly the only struggle in my life.
Thankfully when I was in 6th grade, I joined in Room to Read's Girls' Education Program. This happened at a critical time in my life. That same year my father had just had an accident that made it very difficult for him to work. For me, the program was the light that I had been looking for. Room to Read supported me with school fees, a new bicycle, textbooks, a uniform, and of course, the most meaningful to me - life skills lessons.
Thanks to these classes, thousands of girls like me learned to come out of our shells and live up to our full potential. We learned to believe in ourselves and in our own values. We learned skills to manage our life, our daily time, to set a goal and make every dream achievable. After group discussions and mentoring, I learned to be a more effective group member by listening and respecting other's opinions. All those experiences have helped me a lot in college, where I've made new friends and have to live independently from my family. Although college tuition is still out of my family's budget, with the encouragement and help from my social mobilizer and Room to Read officers, I made a plan to apply for financial aid, and received one scholarship to secure for higher education. In the future I hope to build a promising career in a large company like Unilever, where I can learn about business and trading.  
For the near future, I'd like to offer life skills classes for primary children in my hometown. This idea came after observing girls around me: my cousin was forced to get married before her graduation, my aunt had to drop out to work at a factory although she studied very well, and girls from the "Taiwan islands" are getting married to Taiwanese men, while made believe they do not need education, only a rich husband. Having joined Room to Read since Grade 6, I know this is not true.
I believe education is the best way to change our lives, and I also believe in Room to Read's vision that "World change starts with educated children". So, I share my life skills lessons and experiences with my sister and children in my neighborhood. My sister used to be shy and hide her athletic talents, but I inspired her to be herself, so now she's on the school badminton team, earning many awards.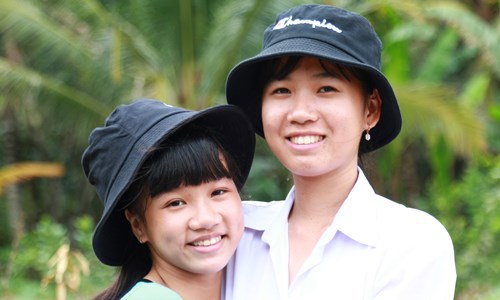 And she's not the only one who realized her talent. From the life skills classes, I also realize that I am good at communication and public speaking, that I can use my skills to speak up for myself and also for my friends and my sisters. So that's why I'm here! Allow me to share with you a quote from my favorite Vietnamese writer, Nam Cao: "The strongest man is not he who steps on the shoulders of other people, but he who is able to lift others on his own shoulder." It's something I truly believe.
Thank you very much for coming here today, with your kind heart and strong shoulders to support me, as well as many other girls in Vietnam. We are proud to say that we are a part of Room to Read, and a part of your love.