Exploring financial literacy from all angles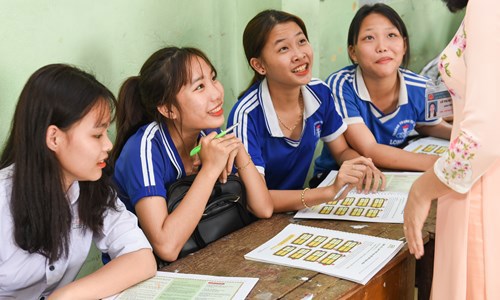 From grade 7 through 12, girls study a range of financial literacy courses designed to align with their conditional growth and needs as part of Room to Read's Girls' Education Program. The courses are contextualized to fit with the local context and specific characters of the school girls in each area.
In many regions in Vietnam, especially agricultural communities, people face financial difficulties due to fluctuating weather (floods, hurricanes, drought, etc.) and already have a strong habit of saving. Many children learn about saving, yet lack an understanding of what financial management and investing means.
Beyond the life skills sessions, girls also learn about financial literacy through group discussions, exposure to women-owned businesses and visits to local banks. These opportunities help girls better understand financial management as career options.
Students also learn how to open ATM cards, manage their own bank accounts and learn about loan services designed for disadvantaged students in remote areas.
The combination of resources gives girls tangible ways to reap the benefits of these lessons in their daily life.
"Last year, after studying the lesson 'How to save money,' I started saving more. Every day, I have saved 20 cents. This year, I have had enough money to pay for the school trip plus an extra USD $15 of savings," says Yen Truong, a girl in 9th grade at Long Hau lower secondary school.
Expanding our financial literacy curriculum
Knowing financial literacy is a fundamental to future success, Room to Read and Credit Suisse recently partnered to pilot a new curricula to deepen our Girls' Education Program participants' knowledge about a range of money matters.
This new endeavor offers financial education life skills (FELS) clubs to 28 schools in Sri Lanka and Tanzania and teach girls about topics such as saving, needs versus wants and creating a business plan.
The newly piloted program began in early 2018 thanks to Credit Suisse, a key partner in funding the development of the materials, and Aflatoun International, a leading expert in financial skills programs.