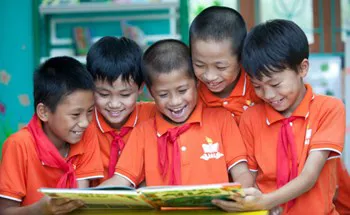 Explore Room to Read Accelerator
Each year countless organizations work to move the needle on international education, helping the world get closer to U.N. Sustainable Development Goal 4. Despite this, six out of 10 children and adolescents are still failing to reach basic proficiency levels in reading and math.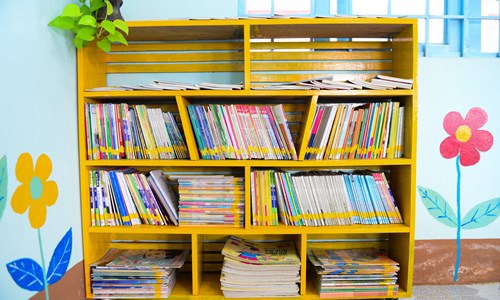 Focused on accelerating progress towards the U.N. Sustainable Development Goals, in 2017 the Bill & Melinda Gates Foundation launched Goalkeepers. This multiyear campaign uses powerful stories, data, and partnerships to highlight progress achieved, hold governments accountable, and bring together a new generation of leaders to address the world's major challenges.
In September 2018, Room to Read was named a Goalkeepers Accelerator for its thoughtful approach and commitment to scaling early literacy interventions to 1.1. million children in Vietnam, India and South Africa over the next three years. Accelerators are a key part of the Goalkeepers mission, bringing together organizations from different sectors who commit to helping tackle a specific goal or indicator of the Sustainable Development Goals.
In Vietnam specifically, Dubai Cares, part of Mohammed bin Rashid Al Maktoum Global Initiatives, is funding the scale-up of Room to Read's proven library model. This will include the development of demonstration libraries, which can be replicated by governments at scale. A Room to Read partner since 2009, Dubai Cares has widened opportunities for countless children around the world through its commitment to creating equal access to quality primary education in low-income countries.
Here's how these partners are helping create systemic change in Vietnam:
A Road Map to System-level Change
In Vietnam, only 17 percent of primary schools have libraries that have been solely created for children. Thuy's village is now one of these communities. But prior to her local Room to Read library, she and her son only had access to books twice per year when a mobile bookseller drove through town. Although, not all Vietnamese communities with libraries are fortunate enough to have an abundance of local language books readily available for check out. One-third of libraries in Vietnam lack adequate space and more than half don't allow children to check out books. 
Thanks to the support of Dubai Cares, Room to Read and Vietnam's Ministry of Education and Training (MoET) are changing that. Using Room to Read's proven "I Do, We Do, You Do" method, new libraries are sweeping across 63 provinces over the next three years.
"This 'I do, we do, you do' model is transforming national school libraries in a manner that is sustainable and locally led, tripling the number of communities impacted within five years with an end goal to reach all primary schools in the country," says Geetha Murali, CEO of Room to Read.
The answer stems from these three steps:
"I Do":  The initial stage starts with demonstration libraries. Funded by Room to Read investors, these spaces model the organization's best-in-class method, including library activity and management training; provision of local language children's books and child-friendly furniture; and implementation of library rating and book check out systems.


"We Do": The next step comes with collaboration libraries. Here Room to Read begins to hand over its approach to the government. Room to Read staff continues to provide training, books and monitoring of activities and systems. Government partners are responsible for library upkeep, assessment and some furniture costs, while moving toward increased ownership of the intervention.


"You Do": With the final stage, comes the expansion libraries. These vibrant learning spaces are fully implemented and maintained by the local government.
"[Prior to the partnership], the facilities were very poor and there was no concrete guidance on how to create a library. [Now] the library is the most visited place by students," says Quoc Nguyen, Vinh Long Department of Education and Training's officer and leader of the first iteration of Vietnam's expansion library project.
This model has already resulted in 250+ expansion libraries led by Vietnam's Ministry of Education and Training. But that's just the beginning.
Over the next three years, Dubai Cares, Room to Read and the local government will create: 75 demonstration libraries and 60 collaboration libraries, followed by 50 expansion libraries. Vietnamese readers can also look forward to 16 new children's books created by local authors and illustrators.
His Excellency Tariq Al Gurg, Chief Executive Officer of Dubai Cares, said:
"We are proud to partner with Room to Read to boost the literacy level in Vietnam. Room to Read's model of sustainable and replicable libraries has opened up worlds of knowledge for children across Asia and charted a course of greater literacy across borders. Every library and every book helps expand children's horizons as they are given license to discover new perspectives and experiences from school and home. This newfound access will have a remarkable impact not only on children, but also on their communities and countries as literacy rates rise and more people are able to take command of their own destinies. We look forward to supporting innovations and expansions as governments make strides empowered by the Room to Read model."
Needless to say, 2019 is already proving to be an exciting year for Room to Read and its fellow changemakers. This collaborative project will not only bolster reading habits in Vietnam but utilize proven systems in-country governments can model and maintain for generations to come.
"Singular injections of large sums of international aid money without reliable long-term partners on the ground will struggle to build sustainable solutions. But when high quality programs are developed, tested and refined by innovative multi-sector partners under a common goal, we can make magic happen," says Murali.