Thuy Tran, calls herself a bookworm even though books have often remained out of reach.
Thuy and her son reading together.

"Books weren't in my parents' budget, so I have craved them ever since. Becoming a mother, my mission was to give my son a shelf full of books," says Thuy.
Without a local library Thuy could only afford to buy books via a mobile bookseller who drove through the village by motorbike toting a wagon full of used books, cartoons and magazines. The catch? He only came once or twice per year. But, one afternoon her fourth-grade son, Hieu, ran home thrilled about talks of a community library underway.
Moved by his excitement, she went to a meeting, where Mr. Hung, a Room to Read collaborator and representative of the schools' parents, encouraged the community to get involved in the creation of a library, which would be supported through Room to Read's Challenge Grant. Through this model Room to Read covers 85 percent of the project's costs and encourages local parents to cover the remaining 15 percent through donations, leadership organizing and decision-making. By contributing to the library in its early stages, Room to Read finds that parents feel more committed to utilizing and maintaining the space for the long term.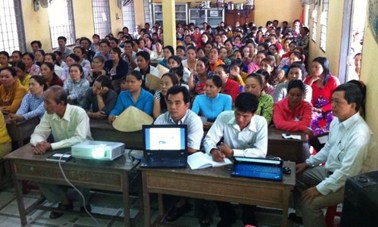 "Before the meeting, I was afraid local parents wouldn't be willing to participate in the Challenge Grant. It is tough to make rural villagers who haven't been to a library trust its power to transform their kids' lives," says Hung. "Yet, what happened was stunning. More than 400 parents were there. The room was not spacious enough, so we had to borrow the ward's head office."
After a flurry of questions, the room boomed with excitement. Many offered  donations immediately; others were eager to learn how they could help. To make up the 15 percent, each parent was encouraged to donate $5. With $5, Thuy can buy 10 kg. of rice, 10 breakfasts for her son and enough food to cook for the entire family for four days. To Thuy, $5 is a fortune. 
For others in deep poverty, it simply wasn't possible. In those cases, parents were encouraged to donate only $1 or $2. Ultimately, the goal was participation, which came in many forms. Some brought construction materials and others volunteered labor for a few days. Their contributions varied in form, but the dedication remained the same. 
The day of the library's inauguration ceremony, the district beamed with excitement. The school yard overflowed with attendees, attracting more attention to the school than ever before. Thinking back to that day, Thuy still smiles.  
"That was my first time getting into the library. I never thought the inside could be that wonderful," she said.