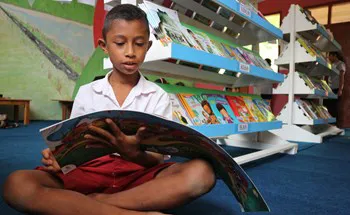 Stay in the know about this project!
Today marks the start of an exciting chapter for Room to Read, as we embark on a journey into the digital space with the support of Google.org. Together, over the next three years, we will further the culture ​of ​reading ​in ​Indonesia ​by ​creating ​a ​digital ​platform ​that ​combines literacy ​professional ​development ​videos ​and engaging, ​children's ​stories.
With this platform, children​ will have ​access ​to over 200 ​high-quality ​digital ​storybooks in Bahasa Indonesia. The hub will also house a library of twenty teacher-training videos to help school staff conduct effective reading activities with children. To encourage long-lasting growth in the region's publishing sector, the project will also provide access to professional development videos for over 500 local ​writers ​and ​illustrators in developing more culturally relevant and age-appropriate children's books. With the support of the Ministry of Education and Culture, we will introduce this platform to schools across at least 16 districts in Indonesia, reaching at least 200,000 students and 2,100 teachers.

Room to Read first began working in Indonesia in 2014 to help improve the region's literacy rate. For every 100 students who enter schools in Indonesia, only 25 exit meeting minimum international standards of literacy and numeracy. Through Room to Read Accelerator, we've created a rich reading ecosystem by sharing our lessons learned with local partners to establish school libraries, train teachers on effective reading strategies, and develop high quality storybooks for children in Bahasa Indonesia.
These projects have ​since published ​35 ​high-quality, culturally-relevant ​children's ​books, with 40 more titles to be produced by early 2019. Six titles won awards at the 2016 Asian Festival of Children's Content in Singapore and eight were selected as exhibition features at the 2017 festival. Google.org will help us continue engaging young, Indonesian readers by funding the creation of 15 new children's books.
Through this project we'll work directly with partners like Taman Bacaan Pelangi and local governments to collaborate and support capacity building for reading with school communities. With the help of Inibudi, and StoryWeaver in India, we will create an effective platform packed with engaging resources to reach thousands of teachers and children across Indonesia.
We're incredibly grateful for Google's support, and can't wait to share our progress along the way!
You can read more about the impact we've made via Room to Read Accelerator here.