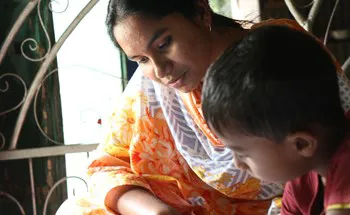 In April of 2019, Hawa traveled from Bangladesh to Japan to share her story with Room to Read supporters for our annual regional gala. Here's the powerful speech she shared:
Hello, everyone!
I'm going to get straight to it - life skills matter!
The life skills training that is a vital part of Room to Read's Girls' Education Program has given me the confidence to speak to you today in this great international forum.
I am Hawa Khatun. I am from a poor sandbar community in Bangladesh, a remote region disconnected from the mainland. There, we face many challenges. There is very little focus on education, limited job prospects and inadequate healthcare. In my village people commonly think that girls can only gain economic and social security through marriage.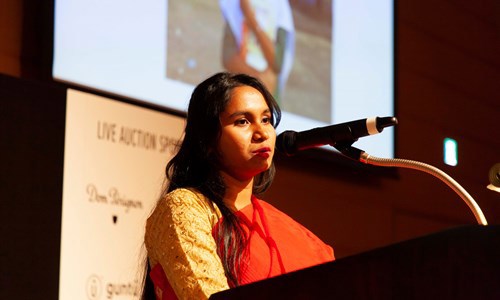 I don't agree, though. It's 2019. Girls are going places!
I did not want to stop my education or get married right away, despite pressure from my community. I wanted to build myself a career. I wanted to grow.
During primary school, I was not aware of the importance of education. It was just part of a routine. I had little ambition. Back then, I did not know that I would be one of the first girls from my village to pass higher secondary school with the support of Room to Read.
While enrolled in the Girls' Education Program, I attended all of the life skills sessions from grade 6 to 12. I came to know more about myself, built confidence and self-awareness, and learned to keep myself safe and secure from common harassment. Most importantly, I learned the rights of girls and women. These competencies — empathy, critical thinking and self-efficacy taught me how to meet day-to-day challenges, have determination and make my own decisions. I crossed the boundary of the sandbar and decided to complete my education. Now, I'm studying management, which is very rare in my community.
The Girls' Education Program gave me a strong sense of determination, and now I know I can achieve my goals. Today, I plan to get the most prestigious job in my country. I would like to be a policymaker. Yes, I want to be a government official. Yes, I would like formulate policies for girls who are in remote areas like the one in which I grew up. This is not just a dream. I will make it possible. The Girls' Education Program, and the support of kind people like you, taught me how to make dreams possible.
The 2030 Agenda for Sustainable Development Goals has made us promise to leave no one behind, which means in our development efforts girls must be a priority in all contexts. It is so important to raise young girls in my country to be educated women and the Girls' Education Program is making that goal a reality. Like me, many girls need life skills education and a supportive hand from a mentor.
I am very grateful to Room to Read and to you. You've shown me why girls' education is important. You've helped my parents become supportive of my education. You've taught me that my voice matters, that my opinion is valuable. You made it possible for me to dream.
Thank you for believing in girls, for knowing that they have unlimited potential. Thank you for allowing us to stand on our own two feet, and for standing with us.