Uganda creates new instruction book
After successfully adapting and distributing Room to Read storybooks and providing library training in two districts in Uganda, Room to Read and a local NGO partner, the Reading Association of Uganda (RAU), collaborated with the government to begin preliminary work for Grade 1 instruction materials.  
Pleased with how this work was proceeding, the government requested that Room to Read and RAU fast track developing and implementing a pilot learner instruction book to provide evidence for consideration in future textbook revisions at the national level. 
The Room to Read and RAU team, led by Literacy Associate Director Titus Kazungu and Literacy Director Kerri Thomsen, worked with local teachers, government officials, illustrators and designers to create pilot instruction books and teachers' guides in two languages, developing the initial content in just three weeks. The illustrations, layout and revisions for the instruction books are being finalized now.  
The team designed a new double-page spread for the instruction books to accommodate a thematic story component, where some of Room to Read's storybook content from Africa and across the world was included to build background knowledge, oral language and listening comprehension skill sets. 

New learner book cover in Runyankore-Rukiga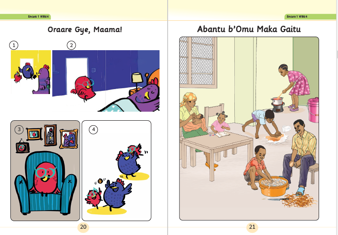 A double-page thematic spread featuring a selection of illustrations from the book "Goodnight, Mom!"
for read aloud (left) and a conversation picture focused on the theme of People in Our Family (right)