Room to Read and Librio launch personalized children's book, "Be Brave"
We are excited to announce our new personalized children's book, produced in partnership with Librio, is today on sale worldwide. You can find out more and order yours here. 
Sales from the book will support Room to Read's vital mission to end global illiteracy and gender inequality in education, at a time when almost one billion students remain unable to attend school.  
We are proud to have teamed up with long-time Room to Read supporters, Librio, who bring their expertise in creating personalized children's books.  
"Be Brave" includes hand drawings from six artists around the world, helping to shine a light on stories from communities spanning Africa, Asia and Latin America.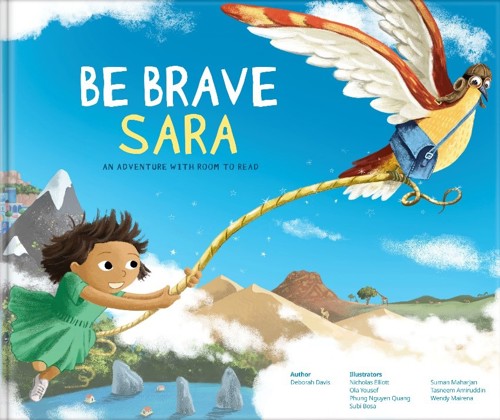 About the book. 
"Be Brave" is the story of children from around the world who give your child tips on how to build confidence and resilience at the start of a new school year or after a long hiatus from the classroom. 
When your child in the book begins to feel scared about the first day of school, they receive a letter from six children, inviting them to visit and learn what it takes to be brave.  
Accompanied by their helpful, though somewhat clumsy, feathered friend, Bravebeak, your child will be whisked to Nepal, India, Jordan, South Africa, Vietnam, and Honduras, countries where Room to Read has delivered our award-winning programs in literacy and/or girls' education. 
Each nation is beautifully hand-illustrated by an artist from that country, making "Be Brave" a colorful celebration of the world's different cultures and geographies.  
"Be Brave" is a wonderful way for your child to learn about and understand the diverse experiences of children going to school across the globe. 
How it works 
You can create your personalized character on a specially-created website for this project. The character is then magically inserted into their own book which you can preview online thanks to Librio's personalization technology. Once you have made your choice between softcover or hardback and placed your order, the book is printed on premium 100% recycled paper in the US or Europe depending on your location. The finished book is then shipped directly to your door in 7-10 days. 
Children's books serving as mirrors and windows to the world 
Seeing characters who look like them is key to increasing children's engagement with books. Using an online tool, personalization options including name, skin tone, hair style, eye shape, clothing, and glasses allow you to create a child that reflects the reader's identity from thousands of combinations.  
 Christabel Pinto, Senior Director of Literacy at Room to Read, explains the power of diverse storytelling and the importance of children to see themselves in a book: 
"Books offer windows into our differences through the mirror of our shared humanity.  If you are lucky, going to school is a ubiquitous experience of a young child's life, as is feeling nervous on your first day.  Yet the experience of being a child can look quite different in different parts of the world, from what children eat to the languages they speak.  In "Be Brave", a child's questions about a first day of school serve as an opportunity to learn from diverse children all around the world, reinforcing the fact that we have more in common with each other than the things that make us different."