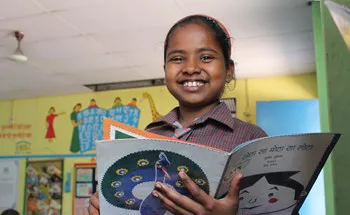 $25 Brings 25 Books to Girls like Ragini
Through the narrow, rustic lanes of Delhi, the screechy rickshaw takes you to the local school where dreams and hopes of many students reside. Not far from school, through the musty smell of wet cement is fourth-grader Ragini's home.
Anyone who knows Ragini has seen the warmth she brings to the room. Yet, her smile is a thick veil that covers her difficult situation at home.
"My mother has been ill ever since I was born. My father, who works as a labourer, does not support my education. He feels it is a waste of time and loses his temper when I choose to go to school. His terrible temper, disgruntled attitude and neglect would rattle me. These were the moments when I would feel helpless and hassled but my mother would come to my rescue,'' said the ten year old.

"I disapprove of my husband's opinion and defend Ragini every time he asks her to stay put.  Alcoholism has also taken over his instincts. He earns 400 rupees every day through labor work and spends it all on alcohol. Due to my ill health, there is very little I can do. However, watching my daughter excel in her studies strengthened my determination to keep her in school," said her mother.

"I like walking to school," she said gleefully with twinkling eyes. "I was in grade one when I first joined this school. Back then, I could not read properly. I shied away from answering questions."
It was until Room to Read made its intervention in the school that Ragini's confidence in the classroom began to blossom. Only in grade two, Ragini was smitten with the colorful illustrations on the library wall – a little detail that kept her excited about the possibilities sitting on the shelves.
"The teacher encouraged us to pick any one of the books and read it. I was excited but I could hardly read any sentences," she said.
Beyond Ragini's literacy instruction, her library teacher, Pushplata, motivated her to read during library sessions.
"I asked her to read out her favourite book in front of the class during Read Aloud and Independent Reading sessions. Like most of them, she made mistakes but was quick to learn, correct them and read the book again," said Pushplata.
Despite such trying circumstances, Ragini has managed to read 37 books over the last four years. The vibrant pages and hopeful stories give her something to look forward to after a full day of school and chores. 
 "After I finish my household chores like washing my school uniform and preparing food, I make sure I finish my homework and then sit down to read the books,' she said, 'My favourite books are Nacho Nana (Dance Grandpa), Kho Gayi Gend (The Lost Ball), Joote aur Moze (Shoes and socks) and Bechara Ribbon (Poor Ribbon). It makes me happy when I read them to my mother. It's a refreshing break from the usual routine."
Through her sincere efforts in the library, Ragini has learned both poems and stories by heart.
Needless to say, Ragini's teachers have not only been thrilled with her growth, but also the leadership role she's naturally taken on due to her passion for reading. She was recently appointed as a member of Children's Library Management Committee, a group that helps take care of the library and assist young readers.
Between her library duties and ranking second highest in her class, Ragini is now known by many as the shining star of the school.

"She has not only excelled academically but also transformed her home. Her mother, recently, in the parent-teacher meeting informed us how Ragini constantly urged her father to quit drinking and finally, after a year, he has. It was because she could speak up and take a stand for her thoughts," her library teacher said. 
As for her future, Ragini has high hopes for herself.
"My wish is to become a police officer and help the citizens of my country," she said beaming, looking to the sky.