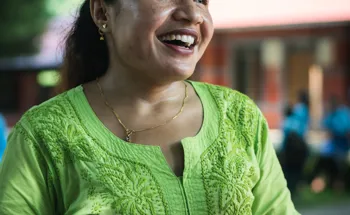 Support Girls Like Kabita Today
Now, as a Room to Read Social Mobilizer, Kabita has dedicated her life to helping girls just like her continue their education. When the COVID-19 pandemic struck and schools throughout Nepal were forced to close, Kabita, along with the entire Room to Read staff, stayed committed.
Room to Read's Social Mobilizers have continued to provide group and individual mentoring by phone to support girls through the crisis and have encouraged them to continue their academic studies at home. Collectively, Room to Read staff provided more than 265,400 remote mentoring sessions to our program participants in 2020.
Here's just one example of how Kabita has continued to check in with the girls enrolled in Room to Read's Girls' Education program during the school closures: