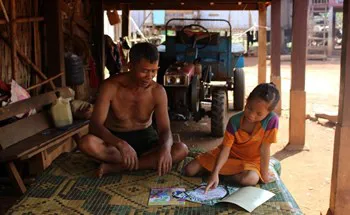 Our Literacy Program
Every year, generous donors help fund innovative educational efforts so Room to Read can better support children in low-income communities around the world. Thanks to the generous support of the Australian Aid: Friendship Grant, Room to Read Laos is able to better assist students like Yuep, a grade one student who didn't grow up speaking Lao, through an addition to the curriculum known as the Oral Language Intervention.
Yuep is a seven-year-old girl who was separated from her parents at just two months old. Like many students in Laos, Yuep is a part of an ethnic minority group and doesn't speak Lao at home, making school incredibly difficult. When coming to school, she was shy and quiet and only spoke with friends from her village who spoke her ethnic language.
When starting grade one, Yuep struggled to read and write in Lao. Even though she was the slowest in her class when pronouncing letters and words, her teacher could see she was pushing herself more and more each day.
Fortunately, with the support of the Australian Aid: Friendship Grant, Yuep started the new curriculum in her school specifically for students who don't speak Lao at home, known as the Oral Language Intervention. Here students engage in specific verbal activities helping them cultivate a stronger vocabulary in Lao and catch up to their peers. This effort works in tandem with Room to Read's typical Literacy Program, which helps students foster a love of reading through classroom instruction, teacher training, and vibrant libraries stocked with books in their local language.            
After just 3 months of these combined efforts, Yuep has already shown improvements with assessments proving she can read and write with greater fluency and has a much stronger grasp on the alphabet.
"She loves reading now," Yuep's teacher says, "Every week she borrows at least five books to read at home with her grandfather. At night, Yuep likes to read in bed for her mother since her mother is illiterate."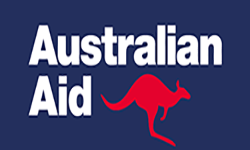 Despite her young age, Yuep is already inspired to create positive change in her community through her love of reading.
"In the future, I want to be a teacher because there are many children in my village who didn't go to school because their parents are poor. I want to them to be able to read and write like me when they grow up," says Yuep.
Thanks to the Australian Aid: Friendship Grant, Yuep and many more students like her have access to a quality education they deserve. Click here for more details about the grant here.