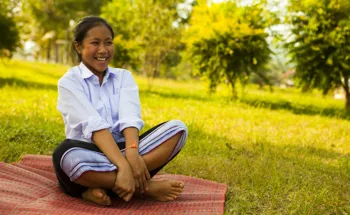 Support Girls' Education
The impact of global climate change will have major implications for programs and policies that seek to cultivate positive life outcomes for girls. From extreme weather-related disasters, like intensified cyclones, to prolonged climate-induced emergencies, like drought. Climate change threatens to disrupt girls' schooling, putting them at risk of child marriage and premature transitions into adulthood.
In this context, there is urgent need for education programming that supports girls and builds community resilience. This is critical not only to adapt to the impacts of the climate crisis, but also to overcome and transform gender norms that put marginalized girls and their communities at heightened climate vulnerability.
This is why Room to Read is expanding its gender equality programming to encompass climate justice. Tapping into Room to Read's girls' life skills education programming, we are focusing on building girls' adaptive capacities and collective agency to engage in empowered climate action. In doing so, we are prioritizing the relational and systemic dimensions of girls' leadership development to strengthen the gender-transformative potential of her individual and collective actions. We are developing an innovative gender and climate justice curriculum that aims to foster young feminist leaders poised to take action and advance a global movement. It's time for education to invest in girls and climate change, and we're here to lead the charge.
Room to Read recently assessed the current landscape of actors, existing programming and publicly available curricular materials that meet this need for gender-transformative and action-oriented climate change education. Here's what we found.