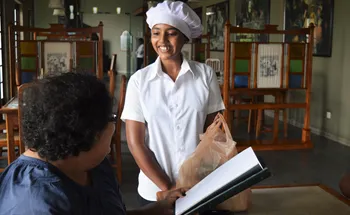 Empower Graduates with Careers
Born in Hatton, an underdeveloped Sri Lankan village known for its tea plantations and preference for boys, Nilakshi Raveena believed she would never lead the life of her choice. Like many people in this region, her father makes a living as a tea laborer and her mother works as a housemaid. Despite both parents working, the family earns less than $800 a year and barely has food on the table to feed their family of four.
"When you grow up with voices telling you to get married so you won't be a financial burden anymore, you eventually learn to believe it," says Raveena. "Though I had big dreams when I was a kid, I had to drop out of school, help my family at home and look after my sister. My destiny, I felt, was to do household chores and get married."
Yet, her fate soon changed when Room to Read came to her school in 2008. Raveena enrolled in the Girls' Education Program and became one of the 38,000 girls benefiting from its comprehensive resources.
"Room to Read's Life Skills sessions not only helped me gain confidence, but also made me realize I have control of my life," Raveena said. "From learning about communication to understanding the idea of decision making, life skill sessions opened up a whole new world for me."    
Life skill trainings are led by Room to Read social mobilizers — educated, local women who are hired to act as mentors for girls in the program. Here social mobilizers help each girl develop skills such as, self-awareness, empathy, interpersonal skills; decision-making, problem-solving and coping with stress and emotions. These practical, personal tools aim to ready students for the future, where pivotal life decisions require both short and long-term thinking. 
"During one of our life skill trainings, we traveled to Colombo to participate in Hilton's Job Shadowing Program," said Raveena. "I was immediately drawn into the hospitality industry and I realized that even if I cannot afford to go to university, there is another opportunity waiting for me as long as I capitalize on it." 
Room to Read Life Skills' Exposure trips help girls explore their career options and empower them to make informed decisions about their future. These trips are planned with the intention to expand on life skills lessons, taking students to universities to help them prepare for tertiary education and workplaces to introduce careers in various industries, such as banking or hospitality. They also participate in outings to fun, educational places like museums and historical sites, where the girls can practice relationship skill-building.
Going Beyond Secondary School
Since her time with Room to Read, Raveena graduated St. Gabriel's secondary school in 2015. Despite community pressure to get married, Raveena made the decision to pursue a culinary course at the Nuwara Eliya Vocational Training Center, an hour away from her hometown. After six months of on-the-job training, Raveena got accepted into Tea Castle Hotel School and is currently learning the art of cooking and kitchen management with the goal of working for Hilton one day.  
"Raveena truly has developed the right set of skills to succeed in life and is a great role model for her sister and the girls in her community," says Girls' Education Program Coordinator, Margaret Mary. "She is a completely different person today—a person with great confidence, knowledge and willpower to go after a better life."
In just six years, Raveena went from being a 14-year-old near drop out to the first in her family to graduate secondary school and pursue a career outside of the estate. Today she is creating a better life for her family by using the skills she gained through the Girls' Education Program and continues to serve as a role model for many young girls in her estate.
"Thanks to Room to Read's Life Skills training, I am able to confidently make decisions and speak my mind when needed. I am excited for my future in the hotel industry!" Raveena exclaims.