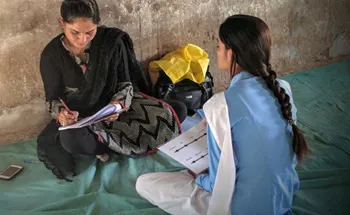 Invest in Innovative Programs
For girls in low-income countries where dropout rates are high, life skills like decision-making, critical thinking and perseverance can be as important as academic skills. They help girls navigate key life decisions, empower girls to stay in school, pursue fulfilling careers and say "no" to early marriage.
That's why Life Skills Education is placed at the heart of Room to Read's Girls' Education Program. But how can we be sure our efforts are working? 
This year, Room to Read began adapting parts of our rigorous Girls' Education Program Evaluation to create a global life skills assessment tool to measure the program's effectiveness. "This is an ongoing process as we continue to fine-tune the tool for each region," noted Girls' Education Program Interim Director, Julie Elis. "Our ultimate goal is to create a life skills assessment tool we can implement on a regular basis, similar to our Early Grade Reading Assessment tool that is widely used to measure a primary school student's literacy skills."
As part of the creation of a life skills assessment tool, our country teams have pilot-tested a wide range of measurement approaches—from simple self-reporting questions to more activity-based tasks. One example of a performance measurement tool is known as the mirror task. In this task, girls are asked to draw a series of shapes by using their reflection in a mirror. The shapes become progressively more challenging to draw with the last one being nearly impossible to trace. This tool tests for perseverance.  An additional task involves analyzing distances–girls are given a map in which they are to travel between two points, critically discovering the shortest route from one place to another. Topics covered in the questionnaire range from self-esteem to critical thinking and self-awareness. Girls report on issues of self-confidence through themes like speaking with their parents about their education to whether or not they are pleased with themselves.
Namrata Jaiswal, a Girls' Education Program Officer from Room to Read India, was involved in the initial pilot study of the global life skills assessment tool in Rajasthan. Namrata discussed the importance of the study with the rest of the Room to Read team. "This study is the first of its kind. It has shed light on how much girls have been able to adapt life skills into their daily lives." She also noted that girls sounded more confident about continuing their education in the interviews conducted.
The pilot program has pre-tested the life skills assessment tool in South Asia, Africa and Southeast Asia. In the future, the tool will be finalized for application across all countries in which the Girls' Education Program operates.
Learn more about our Girls' Education Program on our new website here!