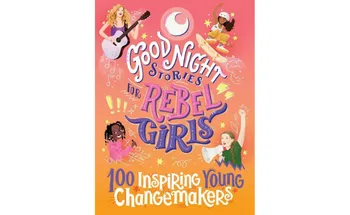 Learn more about Rebel Girls
Many of the girls who are or have been participants in our Girls' Education Program might be described by some as rebels. That's because they simply refused to accept what would have been considered their fate – like marrying young, or not receiving an education. At Room to Read, we celebrate those rebels who have discovered their own strength, advocated for themselves and have created a new and different path from the one that might have been forced upon them. 
And that's why we are thrilled to announce that a few of those Room to Read rebels will be featured in the latest volume of Good Night Stories for Rebel Girls, titled "100 Inspiring Young Changemakers." The new book was announced by Rebel Girls this week.   
"When girls see role models from their own communities carving new and successful paths, they become more keenly aware of their own potential and future possibilities they may have never imagined," said Dr. Geetha Murali, Chief Executive Officer of Room to Read. "Partnering with Rebel Girls just makes sense, as our missions and values are perfectly aligned." 
Launched in 2016, Rebel Girls is a global multi-platform empowerment brand with the mission to help raise the most inspired and confident global generation of girls. Just as Room to Read works to instill in children and young students that they can dream of becoming future scientists, doctors, researchers, policy makers and leaders of change, Rebel Girls does the same through its platforms.
"This volume showcases the power and potential of young girls and women today. As we celebrate these contemporary Rebel Girls who are making the world better in so many ways, we empower our global community of girls to see themselves as changemakers," said Jess Harriton, editor of the book.
 "100 Inspiring Young Changemakers," which will be available on the bookshelves in September 2022, celebrates individuals under the age of 30 leading the next generation of girls to change the world. In addition to featuring Room to Read Girls' Education Program participants from countries like Sri Lanka, India, Vietnam and more, the book will also include stories of barrier-breaking activists, artists, inventors, and entrepreneurs like Taylor Swift (U.S.), Greta Thunberg (Sweden), Rubaba Muhammadi (Afghanistan), Vanessa Nakate (Uganda), Rayssa Leal (Brazil), Emma Raducanu (Canada/U.K.), Olga Kravchenko (Ukraine/U.S.), Marine Serre (France) and many more.
We are also partnering with Rebel Girls to publish a mini-series book, She Creates Change, featuring girls supported by our Girls' Education Program who have broken barriers and defied expectations as well as heroes and role models chosen by those program participants. The collection of stories will be published in a variety of languages and will be available in October 2022, through non-commercial distribution channels in the U.S. and in a number of countries across Asia and Africa where Room to Read reaches girls through its Girls' Education Program.