Supriya has been a key member of Room to Read's Human Resources (HR) team since she joined in 2013. She supports Room to Read's Bangladesh Country Office and is responsible for many different areas of HR, including recruiting, onboarding new staff and administering benefits.
Q: Why did you decide to join Room to Read?
A: My first interaction with Room to Read started before I began working here. Let me tell you the story behind it….
 I first interviewed at Room to Read for a role on the Administrative team. The recruiting process was very competitive. I was the second choice, so I didn't get the job. Afterwards, I stayed connected with Room to Read by emailing the team and looking for voluntary work to gain NGO experience. I knew I wanted to change my career path to the nonprofit sector. 
Seven months later I received a call from the HR Manager who invited me to interview for an opening on the HR team. I was very excited and nervous when I went in for my interview--and I was so happy when I was offered the position of HR Associate in such an unexpected way!
And so began my journey with Room to Read. Our programs and activities have always interested me because of Room to Read's focus on children and education. Working here, I am continually inspired by the good work we do and the people we work with.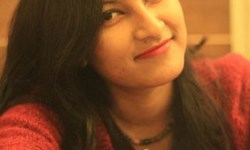 Q: What do you love about your role at Room to Read?
A: I love the fact that the HR team has the ability to empower our employees and lead the organization. The funny part is, most people think HR is about knowing a lot of secrets! Well, I like the very precise systematic approach to HR that Room to Read practices. I have always had a tendency to learn and work beyond my job description and Room to Read has allowed me to do just that. For example, last year I started to engage in more strategic level work by developing policies, preparing personnel budgets and doing benefits calculations. I really appreciate the opportunities I get at Room to Read to expand my skills and learn new things. 
Q: What is your educational background?
A: I have a bachelor degree in Business Administration from North South University where I majored in HR Management and Marketing. Right now, I am pursuing an MBA from BRAC University and hope to finish it by next year.
Q: What was the last book you read? Would you recommend it?
A: I'm really fond of thrillers, adventure stories and inspirational books.The last book I read was Rocket Boys by Homer Hickam. It's the true story of an astronaut from NASA and it goes into wonderful detail about how he became successful. I definitely recommend it!
Q: What do you like to do when you aren't working?
A: I like spending time with my family, relatives, friends and close colleagues. I also enjoy  listening to music, watching a lot of movies, cooking and reading books.