Today we're putting the spotlight on one of our amazing supporters, 13-year-old Elle Chassin. Originally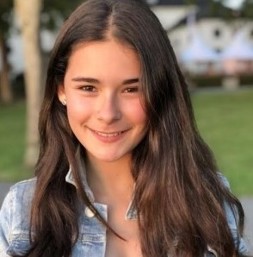 from California, Elle now lives with her family in Amsterdam where she attends secondary school. She recently celebrated her Bat Mitzvah, and while she was unable to see her friends and family in person due to the coronavirus, she brought her loved ones together virtually in support of education by raising funds for Room to Read.  
As a student herself, Elle has had to transition to distance learning from home, like many other children around the world. Elle said, "When I reflect on how much I am struggling with the changes and differences in my education, I wonder about all of the other kids in the world who don't have the same opportunities that I have.  If I am [worried] about not...being in the classroom, what about all of the kids around the world who have never seen a classroom or don't have access to books?"  
So, Elle decided to take action – she created her own fundraiser with a goal of $3,000, enough money to support 10 girls in low-income communities through one full year of secondary school, and even committed to contributing $300 of her own money earned through babysitting and other means.  
We connected with Elle to learn more about her story. 
Tell us about your experience with distance learning while your school's been closed.
Mostly, I miss my friends – though, I am surviving thanks to technology. Distance learning was a big challenge in the beginning but [by] the 8th week, it feels pretty normal. The only thing that's gotten me through has been reading  – my book count is around 25 books so far.
Why do you think it's important for children everywhere to learn how to read?
I think it is important that children everywhere learn to read, because a) that is a big part of how we absorb/get information, b) reading is a pathway to everything; jobs, school, university, etc) I want children everywhere to experience the joy I have while reading.
Have you been reading anything good while sheltering in place?
Yes, I definitely have. Some of my favorite books include The Throne of Glass series by Sarah J. Maas, The Dark Artifices series by Cassandra Clare, and Beneath the Scarlet Sky by Mark T. Sullivan (and many more).
What does gender equality mean to you? What rights do you think girls and women should have?
For me, personally, I think that it shouldn't matter what gender you were born with, you should have the same rights, the same jobs, and the same opportunities that every other human has.
What college study or career paths sound interesting to you right now?
I would like to study law and become a lawyer. I feel very strongly about justice, and I think that being a lawyer would start me down the political path. I would like to be president of the USA, however, definitely not the first female one, because that would be disheartening, as you must be at least 35, so that would be another 22 years before America has a female president.
Why do you think it's important to help others and try to make the world a better place?
Well, right now, the world needs help. But besides that, I am so privileged and lucky, and it's really hard to imagine life without my books, or my computer, or my school. They make me so happy, and I want to bring that joy to others.
You've nearly tripled your original fundraising goal of $3,000! Were you surprised by the response you got?
Well, when we sent out the email, it was late evening, and when I woke up the next morning my dad came bursting into my room saying that we were over our goal. I couldn't believe it and had to see for myself. It was true, and for the next week or so, donations just came rolling in, until not 10 girls, but almost 30 GIRLS could go to school.
What is your wish for Room to Read students?
I want them to be able to learn how to read a long book, and make sense of the world, and become leaders in their own communities.
Elle has raised nearly $9,000 so far. Support Elle's fundraiser today, and learn how you can honor the milestones in your life by starting your own fundraiser for Room to Read here.
 
Thank you, Elle!