Room to Read's Literacy Program creates a path for underrepresented voices to be heard by pursuing the end of illiteracy globally. By training authors and illustrators all over the world to create children's books, Room to Read is ensuring that global book creators have power over their own narratives and can develop stories that reflect the lived experiences of children in their communities. Here are a few ways Room to Read is committed to fostering diversity, equity and inclusion through initiatives in our Literacy Program.
1. Literacy Cloud Launch in Indonesia

 
This year, we celebrated International Literacy Day in Indonesia with the launch of our online learning platform, Literacy Cloud and a workshop for parents, educators and children's book creators. With COVID-19 preventing in-person literacy instruction for many students around the world, Literacy Cloud has become an essential resource. LiteracyCloud.org contains over 1,000 high-quality Room to Read digital storybooks for children in Bahasa Indonesia and more than a dozen other languages, professional development videos for educators to lead effective reading activities with children, and videos for books creators to support the development of more high-quality children's books. Room to Read's library of storybooks instills empathy, kindness and respect for our shared humanity in the next generation of leaders and global citizens by giving children exposure to globally diverse voices.
The virtual Literacy Cloud workshop hosted over 500 participants and included discussions between members of the Ministry of Education as well as educational staff about children's books and how to foster strong reading habits. Writers, illustrators and publishers also shared their experiences in creating engaging storybooks for children.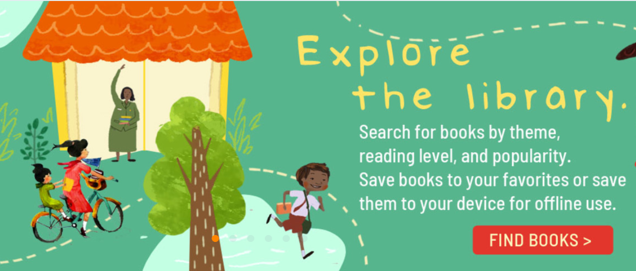 2. India Gets Reading campaign
In India, Room to Read recently facilitated a nationwide literacy campaign to help combat the loss of learning caused by the COVID-19 pandemic. The India Gets Reading campaign, which ran from Indian Independence Day on August 15th to International Literacy Day on September 8th, asked participants to commit to a pledge of dedicated reading time.
This campaign deployed several different initiatives to reach children across the country. For example, students were encouraged to access diverse storybook titles in English and Hindi on LiteracyCloud.org. For those without internet access, Room to Read India staff used an Interactive Voice Response (IVR) platform across three different states. The IVR service, available through a toll-free number, enabled children to listen to new stories every day.
Room to Read also created a mobile library which travelled to different schools during the three-week campaign. "To reach out to remote areas, a mobile library was conceptualized as one of the means to encourage children and expose them to good quality reading material," said Sourav Banerjee, Country Director, India. He added, "The most effective solution to end illiteracy is to build a culture of reading... this unique initiative aims to bring together people from all walks of life – students, teachers, parents, working professionals, celebrities and government representatives in a celebration of the magic of reading and through it the joy of learning."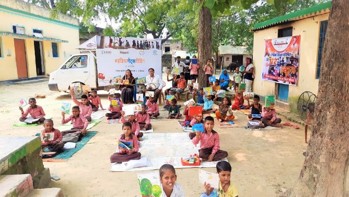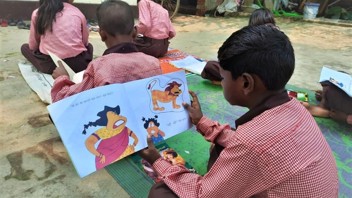 3. Writer & Illustrator Workshops
Mahesh Pathirathna, Room to Read's Associate Director for Book Publishing in South Asia, and Alfredo Santos, Room to Read's Global Literacy Program Manager, are at the forefront of publishing diverse and inclusive children's books. Through their writers' and illustrators' workshops, Mahesh and Alfredo teach local writers and illustrators the ins and outs of developing quality children's literature, helping create books where children of all cultures are celebrated. Find out more about the work of our Quality Reading Materials team in this video: https://youtu.be/-wNuMTMxYNU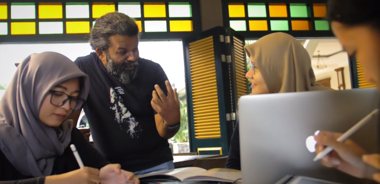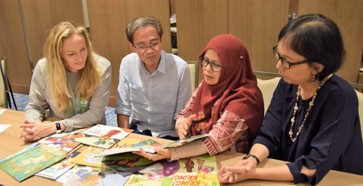 4. Librio's Be Brave Book Launch
Room to Read is excited to partner with personalized book publisher Librio to create Be Brave, a book created to give children tips on navigating the beginning of a new school year. As the main character of the story, named after and illustrated in your child's likeness, travels to Room to Read countries across Asia and Africa, the child learns about different cultures and gains confidence from the characters they meet in the book. Librio's customizable format fosters a diverse and inclusive literary journey, where every child can see their own experiences reflected. The book will be released internationally within the next two weeks.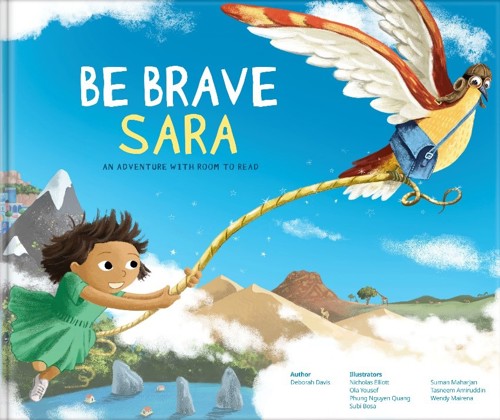 Learn more about our Literacy Program here.