Kendall, a seventeen year-old from Southern California recently visited Room to Read's Girls' Education Program. Moved by the experience, she wanted to share what it was like to witness a life skill class first han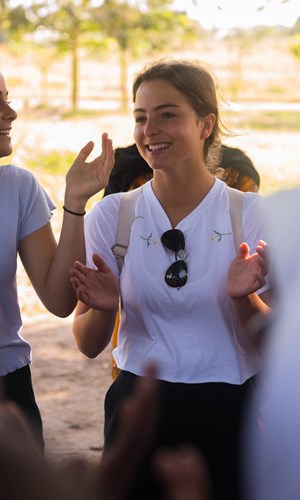 d:
As we embarked on our three hour bus ride to the Lugoba Secondary School in Tanzania, my head filled with anticipation for what lied ahead of us. Gazing out the bus window, I was met by the curious stares of adults and children alike, all wondering what business I could possibly have in their remote Tanzanian village. Little girls carrying even smaller children on their hips waved to me as I passed.
Amidst telling me stories of the hardships that they had endured in order to receive an education—parents leaving, having to face criticism from their communities, lack of material support— the girls' eyes would light up at the mention of the life skills classes and Room to Read's program. They would describe the forty minutes they spent each week with the social mobilizers in those life skills classes with such passion and joy that I couldn't wait to witness it in person.
After paying our respects to the headmaster of the school on that humid Tuesday morning, our group of camera men, social mobilizers and guests was ushered into a classroom with red dirt floors to observe a Life Skills class in action.  I smiled as we were greeted by the muffled giggles and winks of the girls waiting in their metal desks.
In every inch of the room I could feel the energy and power exuded by the girls. I could sense that I was among a group of young women who had something to say and who would not let their voices be silenced.
Once we had taken our seats at the back of the classroom, the social mobilizer leading the program proceeded to clap her hands and playfully shout to the girls to signal the start of class:
"Wee," she shouted to which they replied "Waa!" She repeated "Waa" and the girls finished with a final "Wee!"
Although this exchange silenced the side conversations and giggles among the girls, it did not suppress their beaming smiles eager for the class ahead. In this one interaction between teacher and students, I saw a tenderness and love that surprised me and caught me off guard. I saw the girls light up and lose themselves in the innocence of song and dance with a lightheartedness I was not expecting, considering the seriousness of their circumstances.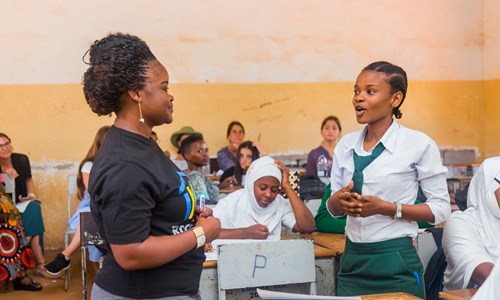 A light breeze flowed through the holes in the concrete walls of the classrooms as the social mobilizer handed out the itinerary for the day's lesson. The activity planned for the girls to debate whether or not a young woman who has not received a life skills education is the same as one who has. 
From the moment that I walked into the classroom, a girl with plaited hair and long sleeves caught my eye. The way that she carried her broad shoulders with undeniable poise and confidence told me immediately that she was a force to be reckoned with, even before I heard her speak. When she was called up to the front of the classroom to debate, her swagger (for lack of a better word) and confidence blew me away.
I didn't need to wait for the translator to explain to me what the girls were saying in Swahili to know that they were defending their views with eloquence, poise and respect for the other party. The girl with the unwavering confidence later shared with me her desire to join the military. Rarely had I seen women my age back at home speak with such confidence. Yet, these girls who had grown up in communities that did not traditionally value a woman's right to voice her own opinion were speaking in front of a crowded classroom without fear. Never have I been so in awe of a group's collective potential and assertiveness.
Afterwards, we were invited to meet the girls in the school courtyard. For a moment, among discussions of boys, makeup and favorite foods, I had forgotten that we were growing up halfway across the world from each other; these girls were just like me. The openness with which the girls discussed their lives with me was heartwarming and I was shocked to learn just how many similarities we shared. 
The playful interactions between the social mobilizers and the girls in the life skills class starkly contrasted every other interaction I had seen between a child and an adult over the past few days. The trust and openness that was evident in their body language confirmed to me that in that room the girls felt safe. The life skills classes create a space where they not only feel encouraged, but they feel empowered to be themselves.
Later that evening, I discussed the day's events with women from three generations of my family and realized that I am a part of a global community of women and have a responsibility to help educate those who do not have the same opportunities as I do.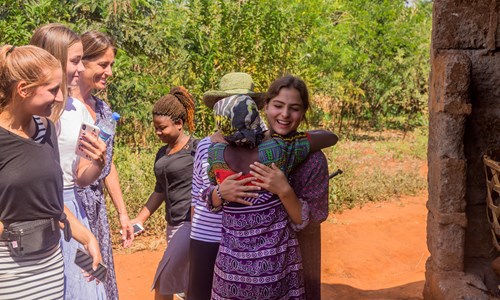 Connecting with these girls, hearing their stories and sharing their laughter showed me just how similar we are and how teenage girls are just teenage girls no matter where we are living. The only difference is that I have been lucky enough to grow up in a community and home where girls education isn't questioned and female empowerment is encouraged.
That day I was able to witness how the life skills program provides girls with a space where they know that they are valued and heard. Teaching girls this lesson of female empowerment helps them to grow up to create more supportive spaces for other women in their community and continue the cycle of women helping educate other women to create a better world.
Want to learn more about Kendall's experience? Check out her Instagram takeover here!