Give with purpose. Give education.
The girl offering me her hand was maybe eight years old. She gazed straight down and trembled like a leaf. And though she dutifully led me through the big gate of her village's new school as someone had instructed her, it was painfully obvious that she would rather have been anywhere else. When I asked some grownups about this later, they chuckled and told me not to take it personally, explaining, "She's just never met anyone who wasn't Vietnamese."
Though the humble farms and dirt roads of Long An Province had already clued me in, this little girl's reaction told me even more about the isolation of Vietnam's rural residents and their need for greater access to education.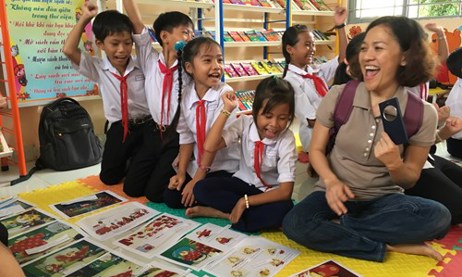 Happily, my tiny escort and the other children at the school in Tan Thanh district soon grew more comfortable with those of us visiting from Avery Dennison. We were there that day to celebrate the library built by Room to Read, which we funded with a grant from the Avery Dennison Foundation. As an icebreaker, we were grouped into teams with the children and tasked with reorganizing the words of a story that had been shuffled into a jumble. Our goal was to work as a group to put the story in the correct order; knowing that it will end in the Vietnamese equivalent of "happily ever after." The kids thought it was great fun that I couldn't speak their language, and I loved seeing both their excitement and their minds at work. Laughter, the universal language, soon made us all friends as we pieced together our tale.
Later, a fifth-grade girl, gave me a tour of the Room to Read library. Slowly and seriously, she pointed out the maps, books, and other materials organized by grade level. Her pride was palpable, as was her understanding that these materials were precious. I got the sense that few children attending the Da Bien Primary School took their education for granted.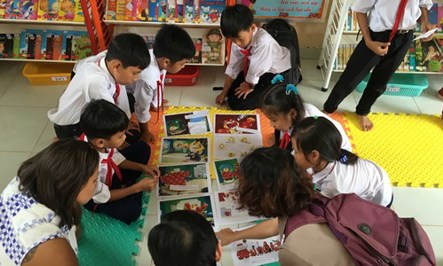 My experience in Vietnam last October was just the latest reason that I find partnering with Room to Read so rewarding. The organization is wonderful at connecting funders with the people benefitting from its work; more important, its record of results is impressive. At the Avery Dennison Foundation, we care about outcomes, and Room to Read's work promoting literacy across Asia speaks for itself.
Improving education in places like rural Long An is a key pillar of the Avery Dennison Foundation's mission; it's also deeply held value among Avery Dennison employees. I've found this to be especially true in Asia, where many employees — some of whom have roots in rural areas themselves — care deeply about addressing rural poverty and inequity. Our grantmaking is informed to a large degree by employees "on the ground" in the countries where Avery Dennison has a presence, and that's certainly the case with our support of Room to Read. Members of Avery Dennison's local team were thrilled to pile into a small van and drive the five hours to the Tan Thanh district to meet the students and see the school.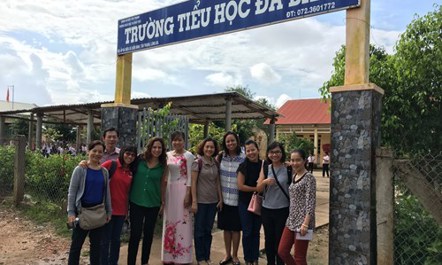 In my job, I review a lot of data. And data is important. But what ultimately moves me are my experiences with the people we hope to help with our giving. My day at Da Bien Primary School, and those two little girls I met, will stay with me for a long time. As much as any data or case study, they're a testament to Room to Read's work.
At the Avery Dennison Foundation, we're pleased to support Room to Read. We hope the children of the Da Bien Primary School will use their new library as a springboard for writing their life stories—stories they otherwise might never have imagined, and stories that end, of course, with "happily ever after."
To learn more about the Avery Dennison Foundation, visit us at averydennison.com/foundation