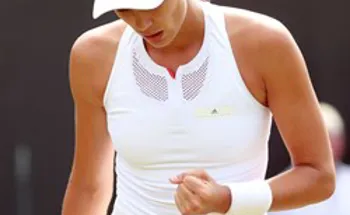 Get Active for Education
We interviewed Garbiñe Muguruza on her love for Room to Read's Girls' Education Program and what words of wisdom she has for young women dreaming big. Come Monday, September 11, the Wimbledon champ will also be ranked the new WTA World No. 1.
Q: What about Room to Read and our mission resonates with you most?
A: I was looking for an organization I could identify with and really connected with Room to Read's focus on Girls' Education. I feel blessed to have grown up with opportunities that enabled me to grow into the person I am today.  But I know where a girl is born significantly impacts what opportunities she has access to. Knowing that many young women aren't able to go to school and explore all the possibilities that come with it, motivated me to work with Room to Read. 
Q: What does it mean personally for you to get active for education as a Room to Read ambassador?
A: I want to get active for education to help girls and young women around the world. In our culture it's easy to take education for granted. We think everyone can learn how to read, go to school and grow academically. But when I realized this is not the case in many communities throughout low-income countries, I was moved and wanted to do something. For me freedom and independence is a very important element in life, and Room to Read helps girls discover that.
Q: Who was your most influential role model growing up?
A: My mom has always been a role model in my life. I have two older brothers, who are ten years older than me. They played tennis and had the opportunity to try and become professionals. Once they decided to go to University, my mom made sure that I had the same chances. She was always there, helping me make my trainings and tournaments. She made sure that her little girl had the same opportunities as her brothers.
Q: You mentioned your dream growing up was to be a professional tennis player, and here you are at 23, the champion of Wimbledon. What advice do you have for young children around the globe reaching for goals that seem difficult to achieve?
A:  I want all the children aiming high to know dreams can come true if you work hard. If you show up time and time again as the best version of yourself, then something will come of it. Become the best doctor, engineer, lawyer, teacher possible. Become the best YOU you can be.  
Q: What are you setting your sights on next?
A: Right now I just want to keep doing what I have been doing in recent months and that is working hard. Every day I wake up and work on becoming stronger on and off the court. That way when the next tournament comes, I know I've done all I can to put myself in a position to do well. 
Set your sights on your own fundraising challenge at give.roomtoread.org/getactive