In lush green hills of the Nuwara Eliya District of Sri Lanka, endless rows of tea plants stripe the landscape. Every day laborers work tirelessly on the estates for a small wage.  One such laborer, Thirviyam also does some gardening and milking during his "spare time." Despite the arduous work, Thirviyam wears a satisfied smile. Why is he content to work so hard? Because, he says, his children are getting a quality education.  In a country where it is not uncommon for children to start working to help the family make ends meet, Thirviyam goes above and beyond to not only make sure his children will stay in school, but also thrive in school. He beams with pride when he talks about his son, Kanishtan, who is one of the best students in his class.
 "One day, I was teaching him how to write a letter, but my son said the way I wrote the letter was incorrect. He even gave me the reasons why it is incorrect!" he recalls with a smile. This dad was so impressed not only by how much his son is learning but also by his confidence to reach out to his father to correct him. 
"The school is doing its part in providing a quality education for my child," says Thirviyam. "So it is my duty to create a motivating environment at home for him to learn." Building a separate study room so Kanishtan can study without distraction, he also bought a whiteboard, desk, painting kits, books, and other reading materials to encourage his son's excitement for learning.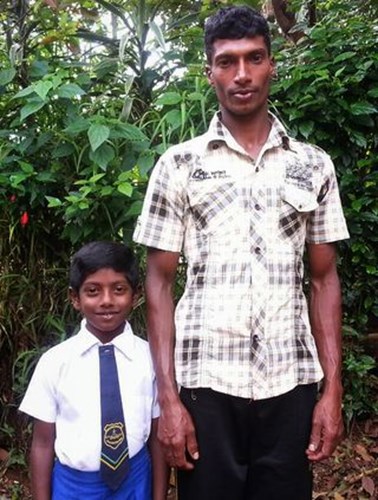 Thirviyam says that many parents in Sri Lanka feel like their children cannot receive an adequate education in their local schools and feel that they must pay for private education. However, not everyone can afford that option. Thankfully, with the expert support of Room to Read, Kanishtan's local school gives him the opportunity to learn in an environment that makes him excited to go to school and learn. Impressed by Kanishtan's performance, Thirviyam says his friends are eager to send their children to this government school as well.
At a Community Reading event organized by Room to Read, Thirviyam recalls swelling with pride as he watched his child read confidently and fluently in front of the village. Many parents were moved to tears of joy and gratitude as they saw how well their children were learning to read.
At Room to Read, we know that children like Kanishtan will have a better chance at reaching their full potential with supportive dads like Thirviyam. That's why Family and Community Engagement is an integral part of our Literacy Program -- because we want every child to have the encouragement they need to get through school. 
Also, watch the story of two other amazing dads who decided they didn't just want to prepare their daughters for marraige, they wanted to prepare them for life. "Society here does not value the girl child as much, and most of the time only prepares her for marraige," says one of these Tanzanian fathers dedicated to supporting the Girls' Education program. "As a parent, I understand that every child has a right to education. It doesn't matter if it's a boy or a girl."