Room to Read is thrilled to announce the addition of Tim Koogle, venture capitalist, entrepreneur and respected technology business leader, to its board of directors.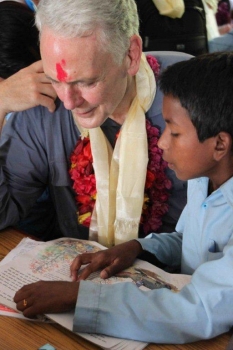 Koogle joins Room to Read as its newest board member after having been a supporter of the organization's work since 2008, and following his participation in the "Trek to 10,000" expedition to celebrate Room to Read's 10 year anniversary and inaugurate its 10,000th library in Nepal.
"Having just returned from the momentous trek to open Room to Read's 10,000th library, and after witnessing first-hand the impact the organization has had on the lives of countless children and their families, I knew I could not pass up the opportunity to further our investment in the organization by joining its board of directors and contributing the its next decade of success," said Tim Koogle.
Koogle's well-established career in the technology business spans more than 25 years and includes serving as the founding CEO and chairman of the board of directors at Yahoo! Inc. from 1995 to 2001, where he helped build the business into a leading Internet media company with annual net revenues of over one billion dollars. Prior to Yahoo!, Koogle was president of Intermec Corporation and corporate vice president of Intermec's parent company, Western Atlas Inc., a multinational information services and technology company. Previous to that, Koogle spent nine years with Motorola where he held a number of executive management positions in operations and corporate venture capital.
Since leaving Yahoo!, Koogle's business and engineering acumen has placed him at the forefront of innovative investments in early-stage technology and consumer product companies. He is the founder and CEO of Serendipity Land Holdings, LLC, a private land development company and the managing director of The Koogle Foundation, a private philanthropic organization focused on the education of underprivileged youth. Additionally, Koogle serves as chairman of the board of directors for Method, Inc., the environmentally-sensitive cleaning products company, and he sits is on the board of the publicly held investment banking firm of Thomas Weisel Partners Group and a number of other private startup companies in which he is a venture investor.
"What excites me most about having Tim join the Room to Read family is his vast knowledge and expertise in scaling business operations to an unbelievably successful level globally, as witnessed with his leadership at Yahoo!," said John Wood, Room to Read Founder and Board Chair. "In Tim we have someone that will bring immense value as Room to Read embarks on its next decade of empowering millions more children through education."
Koogle received a bachelor's degree in mechanical engineering from the University of Virginia and holds a master's degree and doctorate in engineering from Stanford University.  
Room to Read's Board of Directors also includes John Wood (Chair), Christopher Beer, Craig Bruya, Scott Kapnick, Kim Anstatt Morton, Jerry del Missier, Dambisa Moyo, Fernando Reimers and John Ridding.