"Being a social mobilizer for Room to Read is a dream come true!" says 22-year old Upendo Mchau. Upendo spends her days working with the female students of Nassaro Seif Secondary School in Tanzania's rural Mvomero district—conducting life skills lessons, providing mentorship and visiting with parents to encourage a supportive environment. It's a scene she saw many times in her own childhood, and to which she attributes much of her own personal success.
"When I was in secondary school, I had a teacher who served as a mentor to me and went out of her way to make sure I did well in class," says Upendo. "She really helped me to succeed in school, and inspired me to work in a field like hers."
Upendo recalls a time when her teacher visited her parents at home and encouraged them to enroll their daughter in a tutoring program to improve her academic performance. "She did this for lots of girls," says Upendo.
Growing up, Upendo always knew the value of a good education, with a school secretary for a mother and a father who held a university degree. "My parents worked hard to ensure that my four siblings and I could go to school," she says, recalling her childhood.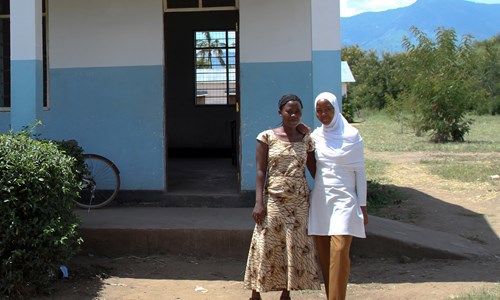 These days, Upendo is determined to pay it forward—helping disadvantaged female students get the scaffolding and support they need to succeed. "On my first day as a social mobilizer, I was so nervous," she admits readily, "but I have earned the girls' respect now and feel confident in my role."
Many of the girls Upendo works with are facing an uphill battle in completing their secondary education. "Most of their families live in poverty and don't have enough food," she says, adding that the girls are "often solicited to do inappropriate things for money, food or transportation." Determined to help the girls make good choices and avoid the numerous obstacles before them, Upendo says her focus is on ensuring each individual girl has the knowledge she needs to avoid dangerous situations and make smart decisions. "I really enjoy educating the community about the importance of education," she says with a smile, "but my favorite part of my job is helping the girls reach their goals."
Learn more about our work in Tanzania and our Girls' Education Program.