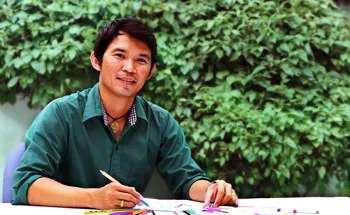 How to Partner with Room to Read
When you work within an organization dedicated to promoting literacy and publishing quality children's books, the expectations are high when it comes to communication. We want our supporters to get the same fulfillment from cracking open a new Room to Read publication or scrolling through our social media feeds that a child gets when diving into one of our book titles. It's no easy feat, especially when you are working with an extremely lean communications budget typical of many nonprofit organizations. That's why we consider ourselves extraordinarily fortunate to have Ketchum as our pro bono partner.
For a decade, Ketchum has supported Room to Read with a broad array of communications services that have included strategy, spokesperson training, media relations, event support, brand messaging – virtually anything we need in the public relations and communications world. In addition, Ketchum employees have raised more than $300,000 for Room to Read through employee fundraising campaigns. Like Room to Read, Ketchum has a broad global footprint, so the support we receive occurs on a global level, with more than 30 Ketchum offices and affiliates engaged in the process.
Partnerships that span this length of time – and so many markets – are not always easy to sustain. Here are three key lessons we have learned that have helped our partnership flourish:
1. Communicate early and often.
You know that friend who calls you only when she needs a favor and expects you to drop everything to help? It's easy to become that sort of partner when you're a fast-paced organization. We avoid that in our relationship with Ketchum by setting up regular check-ins. Through these chats, we've identified opportunities like having our CEO, Dr. Geetha Murali participate in an International Women's Day discussion alongside Ketchum CEO, Barri Rafferty, as well as opportunities to have Ketchum staff attend Room to Read events in various markets to learn more about the organization.

Along with being consistent, the communication between organizations needs to be strategic. For the last 10 years, we have worked directly with Ketchum on our five-year strategic plans. This not only enables us to benefit from Ketchum's insights into how we want to evolve our communications strategy – it also provides them with a thorough understanding of Room to Read's long-term goals and priorities.  Several Ketchum employees who have worked on our initiatives have also have visited our schools and libraries in person to get a deeper sense of how our programs operate and transform communities.

2. Reinvent the partnership.
Any relationship can run the risk of growing stale if you don't shake things up on both sides. Over the years, Ketchum has shifted its focus from helping us promote our Literacy Program to working with us to draw attention to the challenges girls face in the countries that we are in. They have supported large projects, like messaging training for our global leaders, to more contained initiatives, such as providing PR support for our fundraising galas. As we talk about the future, we continue to explore ways that we can innovate and provide opportunities that engage Ketchum employees while increasing awareness for Room to Read.
3. Involve a cross-section of employees.
From account coordinators to the CEO, more than 500 Ketchum employees have donated 15,000+ hours of their time supporting Room to Read projects. Rather than operating top down, Ketchum's social responsibility program follows the simple principle that ideas and involvement can come from anyone and anywhere, all it takes is a spark. Likewise, at Room to Read, our involvement with Ketchum extends beyond the Marketing and Communications team to include development directors, relationship managers, program managers and our CEO. This type of cross-functional involvement strengthens the partnership and helps us identify opportunities that we might not otherwise recognize.
The world of communications has changed mightily over the last decade, and while most nonprofits – and even for-profit organizations – struggle to keep pace with declining attention spans and an explosion of tools and technology to master, we've been lucky to have Ketchum as our guide. By approaching the relationship with trust, creativity and a mutual passion for being #AForceForGood and making the greatest possible impact, we've been able to build awareness of our mission while also building a strong and steadfast partnership.