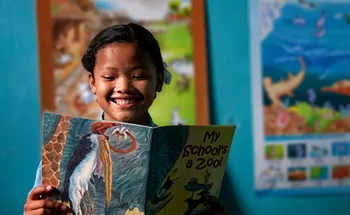 Celebrate International Literacy Day!
This year, in honor of International Literacy Day, we are celebrating how books can bring people together.
For Dustin Frazier and Laura Maestrelli that could not be more true. 
As former Room to Read staff, they were drawn to the organization for different reasons, but both were eager to dedicate their days to literacy and girls' education. Little did they know, those jobs would lead them to each other.
We recently sat down with Dustin and Laura to learn how their love story began, where it's taken them, and how they've found fun ways to teach their children the importance of being global citizens.
Laura: I started that same year in April. I got my Master's degree in English and after graduate school, while working for a publishing company, I was reading more and more about international development. Paul Farmer's book "Mountains Beyond Mountains" was the one that really motivated me to do something that contributed to the positive direction of the planet. That book lit a fire for me. Strangely enough, at that same time, a friend of mine from college told me she was applying for a job at Room to Read. So out of curiosity, I checked out the website. 
Dustin, who built the website, interjects: And the website was AMAZING!  
Laura: Yes, of course! I thought to myself, 'what master mind put this together?' 
Dustin: We knew each other for a full year before we started dating. Then at Room to Read, we ended up hanging out on a beach, staring up at the stars, and that was the moment the two of us realized there was interest on both sides. We really had to think about dating someone from work, though. We were both a little cautious at first, but that fell away pretty quickly. 
Laura: We were engaged within a year and married 3 months after that. 
The theme of travel has constantly woven through their lives - from working at Room to Read to requesting donations to our organization in lieu of more traditional wedding gifts. But after getting married the two knew it was time to take a leap towards their dreams. So, they left their day jobs and set off for an adventure around the world. They cutely argue about the exact number, but they visited around 18-22 countries in the span of a year.
Dustin: We figured out early on when we were dating that we both had this fantasy of taking a year off to travel. Once we knew we were committed – in terms of our relationship – we realized we better take off soon before we started having kids.  
Laura: Yeah, that was really the impetus for leaving Room to Read. 
Dustin: I think both of us would have stayed quite a bit longer if we didn't want to have a family soon and travel before all that happened. 
Laura: A lot of people said we were crazy for taking off right after we had just gotten married. As romantic as it sounds, anyone who has traveled, particularly in the developing world, knows how challenging things can be. You'll find out pretty quickly if you are truly compatible and if a relationship is going to last. For the most part, the year went really well, but some serious things did happen along the way.  
We did get very sick in Nepal, Dustin got appendicitis in a very remote part of Spain and had to have emergency surgery when we both didn't speak the language. We learned we are pretty good in a crisis, which was a good early indicator of tough things that can happen in life and in a marriage. 
Especially reflecting on it now, I realize what a gift it was to be an outsider for a whole year. We weren't in our comfort zones and that was a good thing. It made us look at our own culture differently and appreciate others. Seeing places with extreme levels of poverty but an equal level of generosity – you can't come back and not be changed by that. I think any person who has traveled with Room to Read and has seen our work knows what that feels like. 
Laura audibly takes a deep breath. 
Laura: It's an emotional experience. I first went to Laos and thought I was emotionally prepared because I was a staffer. Yet, when we went to a remote part of the country, the whole town came out in a spontaneous parade. They walked us to see the school with instruments and everything. It was one of the greatest moments of my life. I get goosebumps now even thinking about it because you can hear about Room to Read's work and see the statistics about our results, but I didn't really understand our impact until I saw this community literally rally around us. It was incredible. 
The last day I was there, we went to see a Girls' Education Program ceremony. For whatever reason this little girl latched on to me and just grabbed my hand. The whole day she was by my side. We couldn't talk to each other, but there was just this mutual understanding. She gave me a bracelet during the ceremony and I wore it for as long I could until it fell off. I still think about her to this day. 
Dustin: I saw that same joy in the Room to Read students in Cambodia The kids were so excited and wanted to show us their chalkboard and their desks and it showed me it's a universal experience no matter where you are in the world.  
Part of international travel is seeing how different the world is in so many places, but also at the core of it, you see the similarities – what we have in common. 
Laura: We talked about the importance of giving back even before we had kids. It's an important value to us and we want to make sure our kids understand the privilege that we live with and how fortunate we are – to use John Wood's term that we 'won the lottery of life.' I think it's something you should learn early on. 
Since they are so young, we haven't started traveling with our kids internationally, but this year for Christmas, we told Dylan to go through all his toys and to fill up a couple of bags with ones that he doesn't play with, but that are still in good shape. We told him we were going to leave them out for Santa with a note saying 'Dear Santa, please take these toys back to your workshop and give them to kids who need them.'  
He got really into it! I thought it would be like pulling teeth to convince him to give up his toys, but he was really excited. It's a tradition we'll continue even after Santa is no longer in the picture. 
Dustin: There are a lot of reasons. I love that the philosophy has always been to think big. We didn't just want to be this small non-profit who is doing some good in the world. We were always focused on growth and wanted to have a big impact. I also love that from the beginning John and the whole team never tried to impose our values onto these countries. We realized they need books, teachers and libraries that are relevant to their own lives. That philosophy supports the growth of education in those countries. 
Laura: I love the refusal to rest on our laurels. When I was getting ready to leave Room to Read, we had a model that worked and that donors liked, but it wasn't achieving all the goals Room to Read had set for itself. We didn't just want to work on building infrastructure, but literacy as a whole – improving literacy skills and taking it to the next level.  
You have kept us engaged all these years as donors because of the willingness to change the model, even when it's harder to market, because it will make more of an impact. We don't let the donors drive the boat because they give money. There is so much integrity at Room to Read. The goal is to change the world and that's what drives the decisions. I really respect that. 
Laura: As you can tell, we still love talking about Room to Read. Even though we haven't worked there in 10 years, I still say 'we' all the time.
And they have no plans of stopping.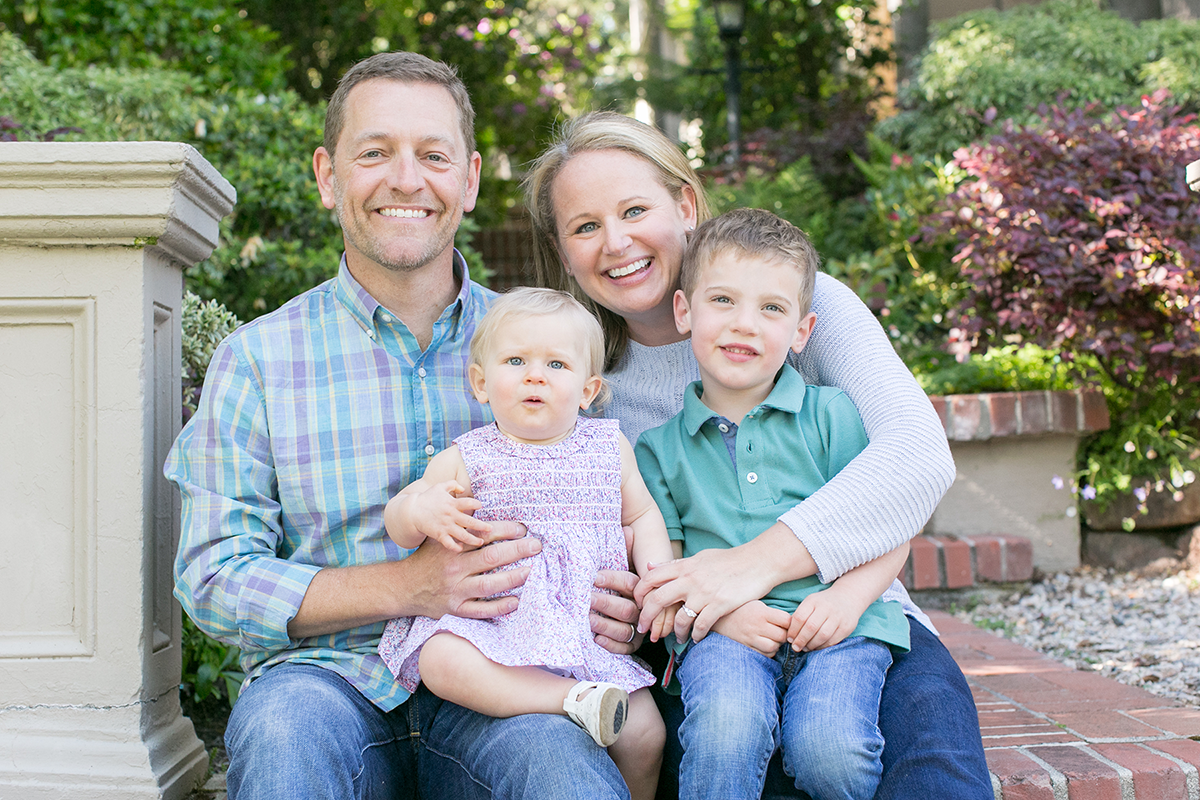 Want new ways to introduce new cultures and countries to your own children?
Download Room to Read's first collection of original titles from Vietnam, South Africa, Jordan and India here for the little global citizens in your life.