Find your way to give back
October 11th is International Day of the Girl Child. This year we not only wanted to spotlight the students in our Girls' Education Program, but also two teens who are doing incredible things both professionally and philanthropically. Seventeen-year-olds Nishka Ayyar and Riya Gupta recently launched PromElle, a peer-to-peer app where teens rent, lend, buy, or sell everyday clothes and formal wear. A portion of the profits then go to Room to Read's Girls' Education Program.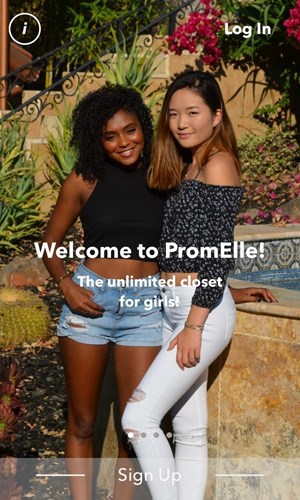 What inspired you to start PromElle?
We started PromElle when Nishka struggled to find an affordable and appropriate dress for homecoming, and then confirmed with our peers that they faced the same problems. We then spent six months designing and developing an app prototype. Last January we did a private Beta launch of PromElle to 50 girls at our school who tried and loved the app.
At first, PromElle was solely a platform for teenage girls to rent and lend formal dresses amongst each other, but we soon realized that girls were interested in everyday wear as well. So, this past January we introduced a new version of the app that allowed girls to rent and lend formal AND everyday wear. A few months later, we received more advice from our users and decided to implement a buying and selling feature. As of July 2018, PromElle is now a peer-to-peer platform for teen girls to buy, sell, rent, and lend formal and everyday wear amongst each other, right from their smartphones!


What inspired you to consider donating a portion of the proceeds to Room to Read?
One of the main reasons for starting PromElle was to empower girls to look and feel their confident best. We also owe a lot to the amazing education we've gotten throughout the years, and definitely would not be here without the support of our teachers and academic advisors. Supporting Room to Read by donating a portion of our proceeds was the perfect way to address these two important values, and we are so thrilled to be able to make a difference in these girls' lives and education.
What about Room to Read's mission do you connect with most?
We really connect with the focus on gender equality. Whether in the classroom or on the runway, access and opportunities should be available, irrespective of gender. Nishka's own experience with the issue was when she participated on the homecoming court, where girls had to spend hundreds of dollars on new dresses, while the male counterparts were able to rent them at a discount from Men's Wearhouse. Just as we saw that issue and worked hard to create a solution, Room to Read has undertaken the challenging task of eliminating gender inequality in education, and we are extremely excited to help in any way we can.
How do you hope this company will help girls locally and globally?
We started PromElle because we wanted to provide every single girl with equal access to beautiful, high-quality, inexpensive clothing. We know how having something nice to wear is vital to a memorable experience and can help a girl feel confident. We hope that every girl, locally and nationally, will use PromElle to not only find the perfect outfits at affordable prices, but also look at this as their own "mini-entrepreneurship" experience as they look to earn their allowance income by listing and selling clothes that lie unused in their closet. Our main vision is to not only empower these girls to look and feel their best, but also build a strong community of girls who will support and empower one another. Although PromElle is currently only available in the United States, we have designed and built a scalable platform that we hope to launch in other countries around the world, as well. 
Where can people learn more?
Download the PromElle app for free from the iOS App Store! We are currently not yet available on Android, but we plan on introducing it soon. Also, check out our website www.promelle.com for much more information as well as our Instagram @promelle for regular updates!