As the year comes to a close, it is only fitting to reflect on a few of the developments that made 2012 a year to remember. In no particular order, here are some of our favorite moments: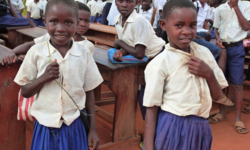 1. A New Stamp in our Passport: In 2012, we officially launched programmatic operations in Room to Read's tenth country, Tanzania. This brought a lot of firsts, including our first writers' and illustrators' workshops in Swahili, breaking ground on our first new classroom block in Turiani and our first cohort of Girls' Education program participants. [Watch a video about our work in Tanzania.]
2. Starring in a Ground-Breaking Documentary: This October, audiences across the United States got a chance to see our programs in action, thanks to the team behind Half the Sky: Turning Oppression into Opportunity for Women Worldwide, a documentary that premiered on PBS. In the film, Pulitzer Prize-winning journalist Nicholas Kristof and actress Gabrielle Union joined John Wood on a trip to visit some of the girls benefitting from our Girls' Education program in Vietnam. [DVD available on Amazon.com]
3. Creative (and Sometimes Crazy) Fundraising Campaigns: More so than any year before it, 2012 was when Room to Read supporters around the globe turned to endurance events to make a difference. This years' daredevils used everything from a motorcycle trip across the Siberian tundra to a mile-high marathon in Switzerland as an opportunity to raise funds and awareness for our work.

4. A Step Towards Greater Sustainability: In 2011 and 2012, our teams around the globe were hard at work designing and implementing a study to determine the sustainability of Room to Read libraries that had "phased-out" their support period. We wanted to know how many of them were still functioning on their own (a whopping 98%!) and what contributed to their success. In April, we put together an infographic to share the results of the study.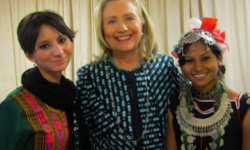 5. Suma Takes the Stage: We have always known that the girls in our Girls' Education program are incredible young women, but this year, the rest of the world got to see it too. On March 8, International Women's Day, 19-year-old Suma Tharu from Nepal took the stage at Lincoln Center in New York City to share a song she wrote about her struggle to earn an education. Suma's performance and subsequent interview were part of the Women in the World Summit (hosted by Newsweek/The Daily Beast), and had her sharing the stage with US Secretary of State Hillary Clinton and actress Meryl Streep. Suma's story will be featured in the upcoming documentary Girl Rising, and our friends at 10x10 put together this short video documenting Suma's trip to New York.
6. Growing our Leadership: In 2012, we added some new faces to Room to Read's leadership, setting the organization up for success as we continue to grow. Among these additions are Lynn Foden, Room to Read Chief of International Operations, and Peter Grauer, Bloomberg Chairman and the newest member of our global board of directors. [Read their bios and learn more about our leadership.]
7. Tapping into a Global Network: Over the past few years, we have enjoyed using social media to connect with Room to Read supporters across the globe. It's been beyond awesome to see just how many people are as passionate as we are about education, so in 2012 we decided to take it to the next level. In honor of International Literacy Day, we asked supporters to share a story about the person who helped them develop a love of reading and created an online collage from the responses. Then in October, we reached out on Facebook and Twitter looking for Swahili-speaking volunteers and found two dedicated individuals to help translate hours of interview footage into English for a video from the field. There's more to come in 2013, so if you haven't already, be sure to follow us on Facebook and Twitter!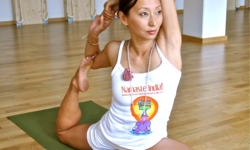 8. A Day of Action: On June 16, Room to Read held our first ever global benefit, Namaste Yoga, the brainchild of Zurich Chapter Leaders Juli and Carolyn. More than 100 yoga studios in 50 cities hosted classes to benefit our Girls' Education program in India, raising over US$40,000 in just one day—an absolutely incredible feat! Consider joining the Room to Read chapter nearest you to be involved in next year's events.
9. Lucky Number 5,000:This year not only marked the completion of ten years for Room to Read India, but also the opening of our 5,000th library in the country. As we celebrated this incredible accomplishment, our friends at the International Cricket Council decided to shine a spotlight on our libraries in advance of the World T20 Tournament, enlisting top players Virat Kohli, Angelo Mathews Shane Watson and Mushfiqur Rahim to get in on the action.
10. Getting Kids in the Game: Students are some of our most important allies in the fight for global literacy, and in 2012 Room to Read saw its first ever national student fundraising and awareness campaign. Stubbies Schoolwear teamed up with Room to Read Australia, author Tristan Bancks and hundreds of primary school students around the country to raise enough money to build a library in Cambodia. You can watch a video about the campaign and get ideas for other student fundraisers on our Students Helping Students website.
11. Awards and Recognition: Once again, we were humbled to be recognized for the quality of our programs and our organizational strength in 2012. This included recieving the Laos Excellent Children's Book Award and UNICEF South Africa's Best Early Childhood Development Publication, making The Global Journal's list of the Top 100 NGOs worldwide and earning a sixth consecutive 4-star rating from Charity Navigator.
12. Closing out 2012 Knowing the Best is Yet to Come! Despite all the milestones and achievements we witnessed in 2012 (including benefitting an additional one million children), we know that there is much more to come in 2013, and quite frankly we can't wait! We put together this video to celebrate 2012 and thank you for making it another year for the books.