When a child can connect to the story in a more meaningful way, they are more compelled to work through the challenge of decoding the words and putting them together. The more time they will spend in the books the more they will develop their reading fluency. Without strong reading fluency, children often struggle to keep up with other subjects as well that will increasingly depend upon reading skills for learning. But it doesn't have to go this way.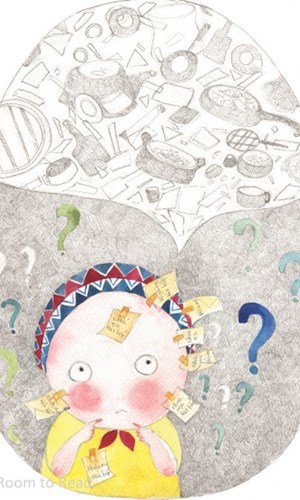 Take, for example, the story of Chin, a young student in Cambodia who was so discouraged by her reading skills that she wanted to drop out in just the fourth grade. "This time last year I could not read the textbook because it was difficult for me to understand the text. I sometimes wanted to drop out from school to just help my mother's work," she recalls.
Fortunately, Room to Read established a library at her school the very next year. The library was filled with beautiful books that were organized by reading level so that the librarian could help guide children towards books that fit their reading level and let them build their confidence. Chin started with picture books.
"I remember my first reading book was Chek-Chek Wants to Get Married, and I began with just reading the pretty pictures then slowly decoding it until I started reading the words faster and faster."
Within just 7 months after the library was established, Chin was reading the books at level 6 — the highest level in library. "I have already finished those easy reading books and now I enjoy the higher level books," says Chin proudly. Moreover, she checks out at least 3 books to take home with her every day to continue improving.