Three years ago my second-eldest daughter told me her friend Ambia had not been in school for a month. I knew Ambia well and asked the reason for her absence, but my daughter didn't know. So I decided to find out for myself.
I walked to Ambia's home where I found her doing the cooking and other chores. When I asked why she had stopped going to school, she said her father, who worked as a mason, was ill and couldn't bear her school costs. Suddenly tears appeared in her eyes. "My dream was to become a nurse to help my community and my family, but now that dream is gone."
Ambia's sadness reminded me of a time two years earlier when my husband, who is a farmer, and I had been struggling to keep our three eldest daughters in school.
One day, a woman named Lovely Khatun came to our door. She was from the Girls' Education Program at Room to Read. I thought she was going to offer financial help, but Lovely, who is the social mobilizer for our district, approached our problem in a way that surprised me. She met with the leaders of our village and asked them to help my family so that my daughters could continue their studies.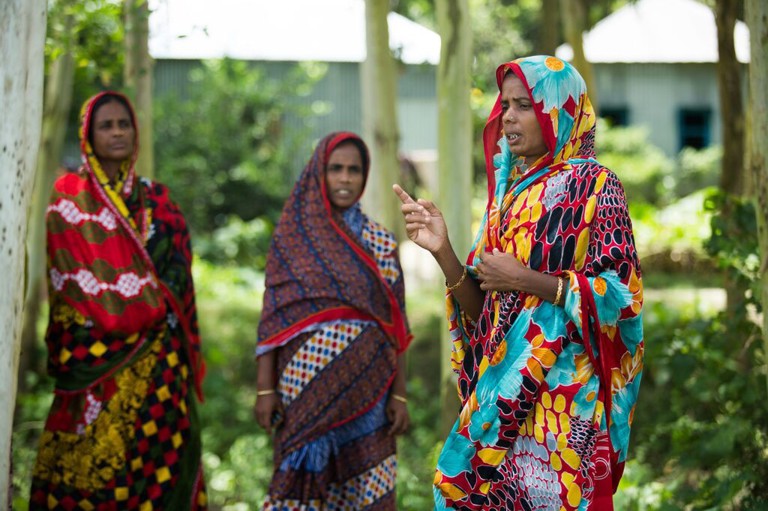 Here's how Lovely explained her novel approach: "If Room to Read bears your daughters' educational expenses you will be dependent upon external support. But if your community can help bear the expenses of its own members, that is the best solution." I am happy to say my community has been able to help.
Ambia also reminded me of myself as a child. My father had arranged my marriage when I was in sixth grade and afterward I could not continue my studies. So I know how it hurts when you have to stop your education. When I saw the tears in Ambia's eyes I was determined to do something for her. I thought, why not apply Room to Read's approach to Ambia's case?
The next day I went to the village leaders and told them about Ambia's dream of becoming a nurse. At first they said they would not help her. But I kept going, hoping to convince them that it was good work to help Ambia continue her studies. After a month of continuous discussions they finally said yes. By chance the next year Room to Read started the Girls' Education Program in Ambia's school and she was able to join.
When Ambia passed the Secondary School Certificate exam she ran to my house with a packet of sweets, her eyes filled with tears of joy. "Thanks to you I've taken a step toward my dream!" She has now transitioned to the 11th grade and I know that one day she will become a nurse and serve her community.
I dream of a world where all children can continue their education and collectively bring our society to a better place. I now know that as a community, we can come together to do this. Thanks to education we can help our children reach their dreams.
***
Marzina Begun's story is one of a collection of inspiring stories we're celebrating as we reach 10 million children. Read more in our special Impact Report, Thanks to Education.
Find out more about Room to Read's Girls' Education Program.
Learn more about how to get involved with Room to Read.