With no access to books or motivated teachers, and lacking in the most basic educational resources, my school was once one of the most neglected, low-performing schools in the district. I knew I had to do something. I could not let our students grow up without even being able to read a book.
Adiranigama is one of the poorest villages in the district, with many people working on farms. This was the primary reason for the school's neglect. I also come from a poor community but I was lucky. My parents helped me see how much education could change my life.
One day, about three years ago, I was in a meeting with educational officers and principals from the district when I heard about Room to Read's community-based approach to education. I was inspired by their vision that puts schools in a much more empowered position.
I saw immediately how our school could benefit from Room to Read's Literacy Program. However, Room to Read required that I get my community's support. The challenge was that my community placed no value on education, which was the main reason for our low scores. What could I do?
Education has given J. Wijitha Jayasinghe the power not to take 'no' for answer.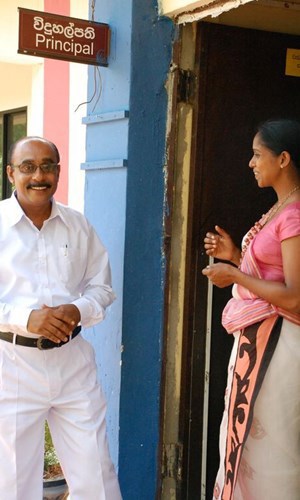 I had a few restless nights pondering this dilemma. Then one morning I woke up, knowing exactly what I had to do: First I would gain the support of my teachers and they would help me mobilize the rest of the community. The next day I drove my motorbike to Mrs. Perera's house, one of the teachers I thought would be on board. She was far from encouraging.
"There are too many problems and there will be many more to come," she said.
But I was not about to take "no" for an answer. "Every problem has a solution," I told her. "We have to start somewhere. I can feel it in my heart. It's the right thing to do!"
And that is how I got my first advocate. Together we brought on more teachers who helped get the students involved. I spent my days visiting parents to encourage them to send their children to school. Most of them preferred their children stay home to help with the housework or earn additional income for the family. They struggled daily with poverty; that was their reality. But I persevered. I showed them how, as with my own past, education would help their family and our community develop and thrive.
I am proud to say that one year later I returned to Room to Read with my community behind me. When Room to Read agreed to lend us their support we were elated. And one year after Room to Read's arrival, Sri
Parakum Primary School went from being an empty school with hardly any educational resources to a bright learning environment filled with children, books, supplies and a library!
well-trained teachers and learning materials that are actually working. Children who could barely read a word in Sinhala are now reading full sentences.
Room to Read's Literacy Program has helped us build a strong foundation for the school. It has not only motivated parents to send their children to school, but it's also allowed them to see what happens when a community comes together to bring its children out of poverty.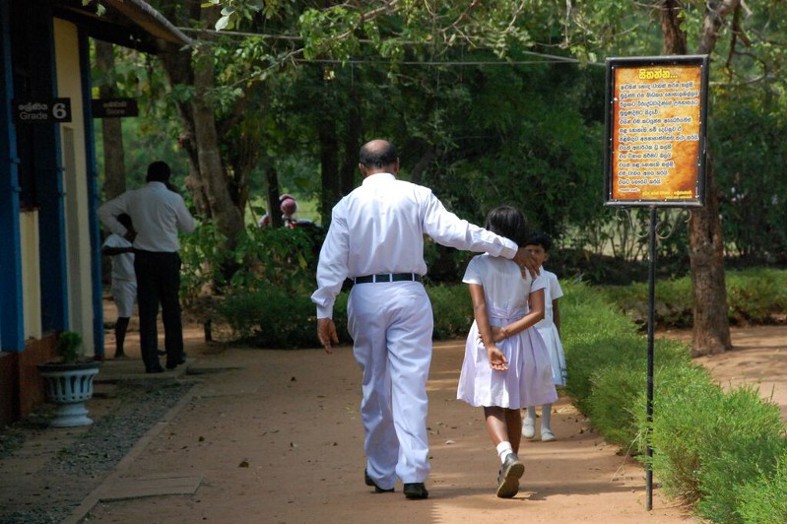 J. Wijitha Jayasinghe walks with a student at the primary school where he is principal.
My hope is that our school will encourage other school leaders to fight for a child's education. With Room to Read's support, we were able to face the challenges head on. We still have a long way to go, but it has been an amazing year. So I thank education, which has given me my strong willpower to succeed and never take "no" for an answer.
***
J. Wijitha Jayasinghe's story is one of a collection of inspiring stories we're celebrating as we reach 10 million children. Read more in our special Impact Report, Thanks to Education.
Find out more about Room to Read's Literacy Program.
Learn more about how to get involved with Room to Read.