Bright laughter emanates from the library at Redibone Primary School. Inside, boys and girls dressed in maroon uniforms sit around 24-year-old Thabang, who is reading from a large, colorful book. His voice drops and the students watch wide-eyed as his words take an ominous turn. Suddenly his expression snaps into a smile and they break into laughter again.
They love it when he brings a story to life.
Thabang had just returned home from his studies in Pretoria when he learned that his former primary school was looking for a volunteer to help manage its library, one it had established with Room to Read's support.
The teachers were too busy to take full advantage of the library and Thabang jumped at the opportunity to help out. To him this was "a chance for me to give back to the community I grew up in and to help make learning fun for children."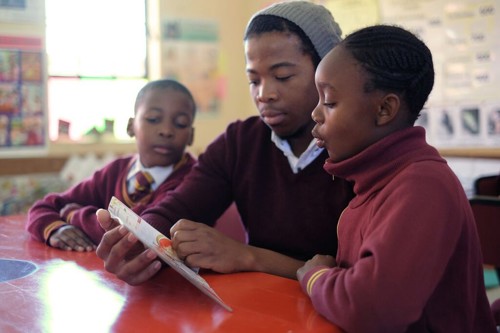 Thabang helps students read a story at the Room to Read library in Redibone Primary School, South Africa.
To prepare Thabang for the role, Room to Read's Library Management Facilitator Nomonde Timakwa trained him in essential library duties such as book processing, classification and leveling; shelving; and book checkout. From the start Thabang was creative and passionate about his new responsibilities.
For instance, he began changing the displays every second day and he identified the best books for reading aloud. Thabang also started a reading club for the students and even came up with his own program.
"Every week he reads a story to the first and second graders," said Nomonde. "He understands it's not just reading, it's a kind of dramatizing that makes the children curious to learn more. They love it when he reads to them."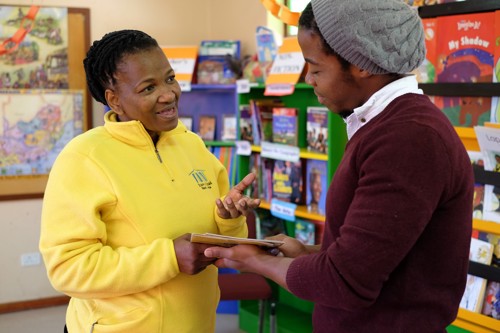 Room to Read Library Management Facilitator Nomonde Timakwa speaks with Thabang at the Redibone Primary School library in South Africa.
With Thabang's help, the Redibone library plays a vital role in the community. "He has been a great inspiration, not just to the students but to the teachers and the volunteers," Nomonde said. "He has really embraced his role. We are so happy to have him."
Not surprisingly, one of Thabang's greatest rewards has been encouraging the children of Redibone to read.
"I'm happy to wake up each morning knowing there are kids who look forward to coming to school just to access the library.
They are very motivated to read and I am just here to ensure they have everything they need to excel," he said. "I'm also proud they look up to me." Thabang has high expectations for the children, too. "I know they will make this community a better place."
As a child who loved to read and learn, Thabang knows firsthand the power of learning. "I believe that with Room to Read's help, the rate of school dropouts will significantly decrease — and that, in turn, will benefit the entire community."
***
Thabang Sithole's story is one of a collection of inspiring stories we're celebrating as we reach 10 million children. Read more in our special Impact Report, Thanks to Education.
Find out more about Room to Read's Literacy Program.
Learn more about how to get involved with Room to Read.