By the time I was 13 years old I was a student, a sister, a father and a mother. My responsibilities began when my mother was diagnosed with cancer. My family has been torn apart ever since.
Every day I woke up at 3 a.m. to do my homework and the housework. Then I rode my bike for one and a half hours to school. After school, my siblings and I went fishing for our dinner.
My father had to leave our home in Long An Province for Ho Chi Minh City, which is two hours away, to take care of my mother while she was in the hospital. He worked in the city to pay the hospital bills, then he came home once a week to give us money and see how we were doing.
To lessen the burden on him, the temple in my community offered to help raise my older brother. I became responsible for my two younger siblings. A year and a half later my mother died and my family fell into debt.
Phung completes her coursework while caring for her siblings.
Being responsible for the whole family is hard. Sometimes I feel really exhausted, but I know my parents put their hopes in me. I have to be strong. I say that sometimes to my siblings when we cry and miss our parents: "We have to be strong."
That's why I want to be in school, surrounded by my friends and teachers. Focusing on my schoolwork has helped me worry less about our living situation. Above all, I want one day to change my family's destiny. My father is my role model and my brother is my hero. Their silent sacrifices are my huge motivation for studying and getting an education.
Despite my father working far away, he never missed my school's parent meetings. He wanted to make sure we study hard and do well. He used to tell us, "We don't own land that I can leave you when you grow up. The only thing I can give you is an education."
Education is not just something you do at school. You can learn wherever you are. I learned from my father and brother about the power of love and the strength of sacrifice for a brighter destiny. Even though I lost my mother, I feel lucky that I have a happy family.
Since graduating from Room to Read Vietnam's Girls' Education Program, Phung passed her university entrance exams and is studying in Ho Chi Minh City.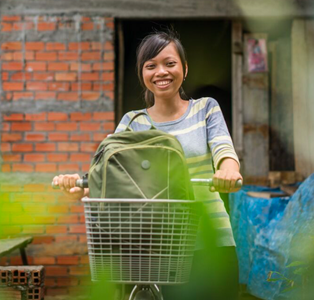 Since graduating from Room to Read Vietnam's Girls' Education Program, Phung passed her university entrance exams and is studying in Ho Chi Minh City
I'm grateful to Room to Read for teaching me the life skills to help me become more confident and more open-minded about making friends. Now I have many friends in school and Room to Read is my best companion on my educational journey.
Even though my family still struggles, our life is better, thanks to the support we received from teachers, Room to Read and the community. We have overcome a lot of difficulties together. Now we can stay together.
This summer I passed the university entrance exam and I'm now studying Human Resources at the University of Labor and Social Affairs in Ho Chi Minh City. If I hadn't gone to school, I would never have been able to imagine a long-term plan for myself and my family. The more I studied, the more I understood how to improve our situation.
Education has changed my awareness. I strongly believe education will help me create a brighter future for my family.
[Editor's Note: You may remember that Pulitzer Prize-winning journalist Nicholas Kristof featured Phung in his New York Times columns in 2011 and 2014.]
***
Phung's story is one of a collection of inspiring stories we're celebrating as we reach 10 million children.
Find out more about Room to Read's Girls' Education Program
Learn more about how to get involved with Room to Read.