Room to Read works in collaboration with local NGOs which allows us to build upon the strengths of our existing work and also ensures long-term sustainability and potential replication of our programs. During a recent visit to Nepal, Regional Director for Asia Jon Beaulieu, and Nepal Country Director Ramesh Puri, visited a school library established by a former implementation partner and shared their experience of seeing one of our core operating principles—sustainability—being realized
*****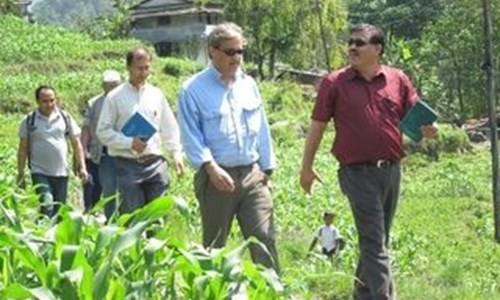 Ramesh and Jon on the path to the library established by Moti Pustakalaya
Driving from Pokhara to the Parbat district in Nepal is a beautiful journey through winding roads of green mountainous terrain and terraced rice fields with views of the snow-covered Annapurna and Fishtail Mountains. As we crossed over the swaying pedestrian bridge to enter the grounds of Navajyoti Tham School, we were greeted by Bhola Shrestha, founder of the local organization Moti Pustakalaya. 
Between 2007-2012, Room to Read collaborated with Moti Pustakalaya as an implementation partner to establish 136 libraries throughout Parbat and trained more than 1,000 teachers, librarians, principals and school administrators through 35 trainings. Although Room to Read phased out of this district in 2012, Bhola keeps Room to Read's vision alive and well. He is committed to improving the quality of education in government schools in order to compete with the large number of private schools being established in the district.
To achieve this goal, Moti continues to provide school libraries with locally-raised seed funding to purchase books as well as offer library training to schools which is delivered by a former Room to Read staff member. The library space and furniture that are supplied by the school are in-line with Room to Read standards, and Room to Read continues to support these libraries by donating our own local language children's books. Moti also provides a network for other libraries and a governance system to ensure the financial transparency of each one.
At one of the libraries we visited that had been established by Moti in 2013, teachers donate one day's salary each year to help buy more books for the library. It is also supported by the Mothers Group, made up of women and girls in the area who promote reading in the school and community.  Since this library opened, teachers have been able to retain students and have seen their academic performance increase tremendously, some achieving recognition in district-wide academic competitions. During our visit, one 5th grade student named Binu shared one of her favorite poems by singing to us and described how wisdom, not money, is important, alluding to the caste system in Nepal.
In order to reach scale and achieve long-term sustainability, we believe our role at Room to Read is to successfully demonstrate effective and cost-efficient program models so that governments and other non-profits can adopt our methodology and practices. Since phasing out our work in Parbat district in 2012, Moti Pustakalaya has established 19 additional libraries in collaboration with local communities, governments, schools and other NGOs. We'd call that success.
Learn more about our work in Nepal.