Help Her Grow
Located in the Sri Lankan countryside, the surrounding region of Sri Dammandanda Vidyala Primary School was known more for its unique blends of tea and lush tea groves than quality education. Principal W. Weerasinghe always dreamt of having a library in his school. Yet, without educational resources, minimal exposure to age appropriate books and insufficiently trained teachers, his dream kept faltering.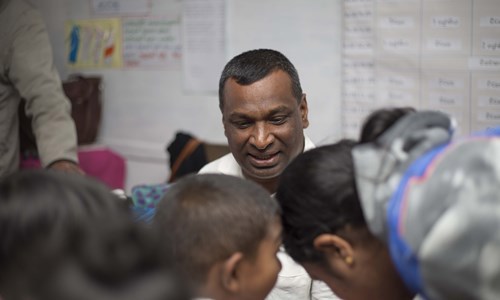 "In Sri Lanka, affordable, quality children's books are rare. There are hardly any in the market because many people can't afford them, therefore publishers do not publish them," says Weerasinghe. "Publishers do not publish books for poor people. How does one educate children if these resources are not available?"
With many students failing to read or show interest in reading, Weerasinghe was in a desperate state to educate local children.
This all changed when Room to Read's Literacy Program came to Dammandanda in 2016, bringing child-friendly learning environments, teaching materials and libraries full of engaging children's books.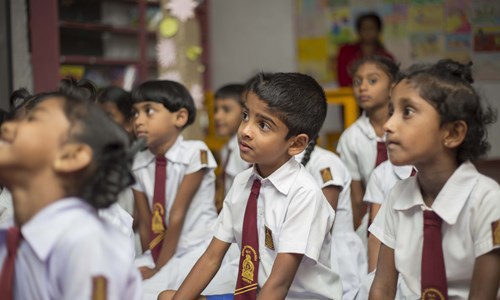 "It's been only a year into Room to Read's library system, but the number of children who went from no interest to showing great habits of reading were remarkable," says Weerasinghe.
Through Room to Read's Literacy Program, more students are now reading for enjoyment and recent data proves it. An independent study funded by the Bill and Melinda Gates Foundation surveyed children's reading habits, attitudes toward reading and reading skills from 2009-2012 in India, Laos, Nepal and Sri Lanka.
The study found 51 percent of children from schools with a Room to Read library were reading for enjoyment at school—compared to only 29 percent of children from comparison schools without a Room to Read library. And in India, Laos, South Africa and Sri Lanka, 51 percent of children from project schools were reading for enjoyment at home—compared to 33 percent of children from comparison schools.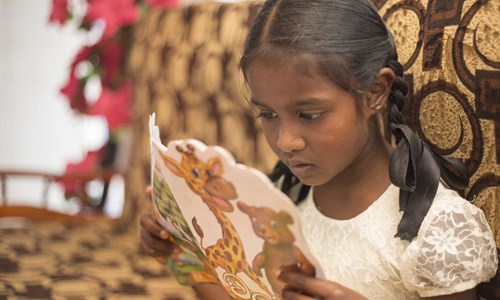 "The success of this program lies in the diverse range of storybooks that have been designed to engage early readers on their terms," says Weerasinghe. "It is very evident especially when I hear children tell their parents they wish for a book on their birthday instead of a toy or chocolate! It shows the magnitude of these storybooks on children."  
These colorful books and imaginative stories have swung open doors to a world and encouraged many to set up their own libraries at home. These personal libraries have grown rapidly over the year with half of the students collecting their own books. The children now lend their books to other children in the village by following Room to Read's check out system, spreading knowledge and stories well beyond school walls.
"Every Friday I borrow books from the Room to Read library. I love reading because it helps me to imagine so many things about everything," says Dehemi Nimsara, Grade 2 student. "I now have a cupboard with books at home! These books are my happy place. I have learned so much and I enjoy reading out loud to my parents and neighbors. I am teaching them," Dehemi says enthusiastically.
Sri Dammandanda Vidyala Primary is just one of the 20,000 communities around the world who have benefited from Room to Read's high quality instruction and supportive libraries.
You can help us bring more books to story lovers like Dehemi by supporting our work in Sri Lanka and beyond.