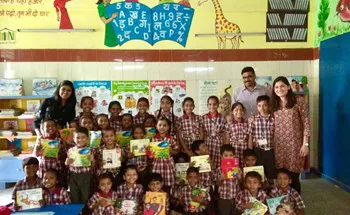 A smoggy October morning in Delhi had a bright delightful day in store.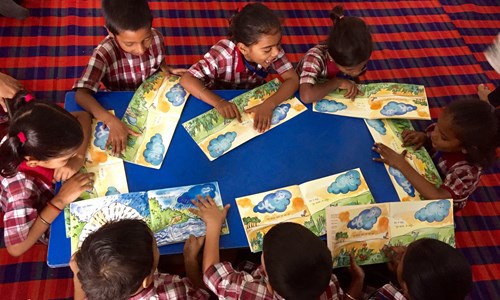 As I made my way to a school supported by Room to Read, thoughts ran through my head – will this library session be at par with the standards we set at the Global Office? How will the children be – will they like interacting? What if the staff finds my inquisitiveness invasive?  
Little did I suspect the wonder coming my way. I reached the vibrantly illustrated school gate and was greeted by Suman, a colleague from Room to Read's India office. Immediately put at ease, I met with the principal and teacher who were trained by Room to Read. Kavita, the school librarian and grade one teacher, has been teaching and managing the school library for more than two years.
"Room to Read's training and support has made things manageable in a simple way. Now we have such interactively illustrated books, organized and customized by reading levels, that children themselves reach out to learn, read and recite. Teaching reading habits and managing the curriculum has never been so simple," Kavita said. 
The Principal, Ms. Manisha, mirrored her enthusiasm and expressed a hope to "keep the books coming."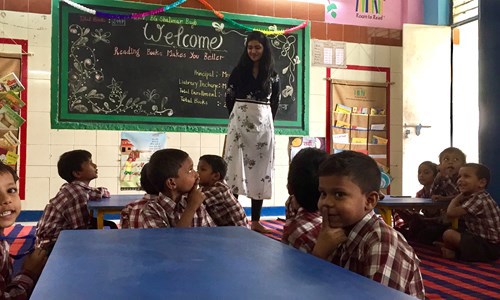 "Even before Room to Read, we had a library with a check-in, check-out system. What has changed is the quality of the material we get, and the support through trainings enabled by a newer, systematized process. Now we have more accountability, more initiative, transparency and therefore success. We're afraid of the reading standards dropping in case the support is withheld," she said. 
From there I was off to the main part of my visit – the library session. The space was such a delight to walk into. All kinds of cheerful images adorned the walls. It felt like a kid's pictorial dreamland – a monkey climbing up a branch, a cat chasing a mouse, a rabbit smiling at you, and birds flying above a stream. At eye level, there were poster boards with inspiring poems and other reading material to entice young readers. 
As I gazed at the artwork in came a file of little first graders, excited to explore this wonderland after their active lunch break. The librarian let them sit at their desks and reminded them about library rules. Then, she took a poll of which book to read and interactively read it with the students. I couldn't help get drawn in by the magnetism of her enthusiasm and found myself silently participating in this fun story time. 
After the 'shared reading' activity came 'independent reading' time where students were each given a book and read it by themselves, with guidance from the teacher as needed. After this, there was a 'storytelling' session where students sat around the teacher and orally narrated a story. The kids modulated their voice as they took turns role-playing the frog and fish characters – an activity used to test oral comprehension skills.  
All through this hour-long library session, there was a Room to Read field staff member sitting at the back monitoring the activities and reporting feedback on a sheet. I was told that she did periodic visits to make sure the staff was maintaining and bettering the standards. At the end of the session, I took a look at her report and was impressed by the thoroughness.  
After this lively session, a group of students called CLMC (Children Library Management Committee) came to clear up the library and lock the room. This was my chance to speak first-hand to the students! These were 4th and 5th graders who were among the best in class and were therefore assigned some additional responsibilities. I had an enjoyable time sitting with them and talking about their interests – favorite books, subjects, and hopes for the future. Tanu, Sheetal, Anjali, Manpreet, Neha, Roshni, Rishika and Rahul – these were responsible children, with hopes and aspirations to read and learn more in their class. I felt inspired sitting amongst these self-professed future teachers, doctors, police officers, and lawyers. 
During the rest of my day these moments kept replaying in my head and I couldn't help but smile as I reminisced on the faces that showed such eagerness to learn and tell their own stories one day.