Sindhu Vee presents the BBC Radio 4 Charity Appeal to support Room to Read on International Literacy Day
International Literacy Day on September 8th is a chance for the global community to recognize the power of education to changing lives and empower low-income communities. The ability to read and write can transform a child's life by opening doors to endless social and economic opportunities.  Yet there remains over 700 million illiterate people in the word, and two thirds of those are girls and women.  
This year's International Literacy Day is more poignant than ever before, with schools closed around the world due to COVID-19, Room to Read is asking for support to keep children learning.  
This week, we are proud to have been chosen for the BBC's Radio 4 Charity Appeal to aid our mission to raise funds for our vital educational projects. The appeal, coinciding with International Literacy Day, is being broadcast throughout the week on BBC Radio 4.   
We are delighted to have comedian and long-standing supporter of Room to Read, Sindhu Vee, as our guest presenter of the radio appeal.   
You can listen to the appeal and find out how to donate to the appeal here 
In the appeal, Sindhu tells the story of Sapana, a Room to Read beneficiary in Nepal. Sapana would walk four hours each day to attend school and dreamed of becoming a nurse. Room to Read supported Sapana through our Girls' Education Program, which including mentoring, life skills classes and provided accommodation nearer the school to ensure she fulfilled her dream.  Today, Sapana is a qualified nurse helping to save lives in her community during the COVID-19 pandemic.   
When Sindhu and Sapana recently met over a video call, Sapana said  
"I have a sister and two brothers. I encourage them to go to school and get education, because I believe that without education there is nothing."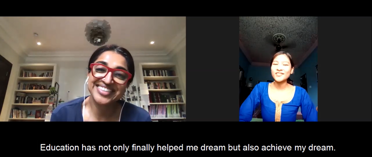 Yet education is under threat around the world.  
School closures mean hundreds of millions of children are unable to learn. For children in low-income communities, this will not mean a pause to their education, but an end.  
UNESCO estimate a possible 24 million students could not return to education after the pandemic, with children in Africa and Asia most at risk. We know the longer children in these communities remain out of education, the less likely they are to return.  
That is why Room to Read is preserving children's universal right to an education through distance learning methods aimed at reaching low-income communities across Africa and Asia.  
We are keeping young children in the habit of learning by teaching literacy skills through TV and radio broadcasts, as well as delivering workbooks and children's story books. These remote learning methods are essential for communities where most households do not have access to household computers or internet connection.  
So far, Room to Read has broadcast to 130 million households through TV and radio lessons, as well as delivered physical learning materials to 350,000 children.  Our teams have also sent over 4 million phone and social media messages to parents and caregivers who do have access to digital devices. This allows children to benefit from face-to-face teaching, supported by Room to Read's expertise in literacy learning.  
This International Literacy Day, please support Room to Read's urgent work to ensure education endures for all children.