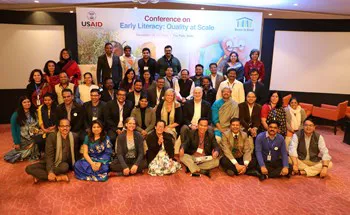 The SERI project is a prime example of how Room to Read's educational methodologies can be shared widely to spark systemic change. The project consisted of three phases: the first phase is I DO or "Demonstration" – where Room to Read demonstrates and implements its comprehensive literacy model in select schools. The second phase is WE DO or "Collaboration" phase where, in partnership with the government, the model is scaled up in a larger number of schools. In the final stage, YOU DO or "Expansion", the government is expected to take the SERI principles and scale it across the state with their own resources.
The program's success wouldn't have been possible without working closely with the government at all stages. Thanks to this consistent engagement, Room to Read was able to build the capacity of key government staff and institutions on early grade literacy curriculum, trainings and assessments. Government Resource Groups, formed in each of these four states, helped contextualize the model to each region's needs, enhancing effectiveness.
Government school teachers also played a pivotal role in the SERI project, implementing the structured lesson plans developed under the project, and continuously assessing the students. To train teachers on the new pedagogy, Room to Read hosted an intensive workshop for a pool of master-trainers in each state who later trained teachers in their respective states.
The joint effort has already exceeded its scaling up targets, going from just 180 demonstration schools in two states to 2,662 schools in four states. Final results showed that the project was able to achieve the same impact at a lower cost, when scaled up in partnership with the government, proving the effectiveness of Room to Read Accelerator.
Room to Read India hosted an insightful two-day conference in December of 2018 where education practitioners from across the country gathered to share knowledge. Discussions featured Room to Read's Chief Program Officer, Heather Simpson, and eminent experts like Dr. Luis Crouch who provides high-level advice to governments involved in complex educational systems, along with renowned economist, Dr. Rukmini Banerjee, and founder and director of Language and Learning Foundation, Dr. Dhir Jhingran.
Room to Read's Literacy Program Directors from Cambodia, Vietnam, Bangladesh, Sri Lanka and Nepal also shared their experiences, inviting guests to learn about educational challenges and solutions being implemented around the world.
Want to learn more about our work in India?
Stay connected with our local team on Facebook here: https://www.facebook.com/roomtoreadindia/