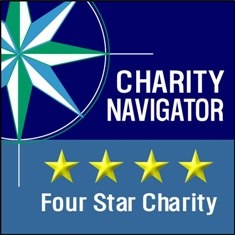 Charity Navigator, America's largest and most-utilized independent evaluator of charities, has again awarded Room to Read the coveted four-star rating for sound fiscal management. This is the fourth year in a row Room to Read has garnered this award and the "exceptional" designation – a recognition that only 8 percent of their rated charities can claim and what Charity Navigator says demonstrates to the public a charity that is "worthy of their trust." 

As the nonprofit sector continues to grow at rapid pace, savvy donors are demanding more accountability, transparency and measurable results from the charities they choose to support with their philanthropic dollars. 

 
"Receiving this honor for the fourth year in a row places us in an elite class and goes a long way in reinforcing the confidence our donors have in their investment in our work," said John Wood, Room to Read Founder and Executive Chairman. "From our beginning in 2000, we have taken an entrepreneurial and creative approach to running a tight ship. I have used over four million donated frequent flier miles to travel the world, and in numerous cities hotels provide free rooms. Credit Suisse provides no-cost office space in Hong Kong, London and Tokyo, and over 3,000 volunteers run fund-raising chapters in 45 cities around the world. Room to Read's consistent four-star rating is a reflection of this commitment to putting our investors' money where it is most needed: into quality and scalable education programs in over 10,000 cities across the developing world."
Charity Navigator's ratings were calculated based on Room to Read's most recent financial information. The four-star rating demonstrates that Room to Read is able to efficiently manage and grow its finances. Furthermore, according to Ken Berger, Charity Navigator President and CEO, winning this award four years in a row shows, "Room to Read consistently executes its mission in a fiscally responsible way, and outperforms most other charities in America." 

Forbes, Business Week, and Kiplinger's Financial Magazine, among others, have profiled Charity Navigator's unique method of applying data-driven analysis to the charitable sector. Charity Navigator is the leading charity evaluator in America, evaluating ten times more charities than its nearest competitors. It is estimated that last year Charity Navigator influenced over $10 billion in charitable gifts. Please visit the Room to Read page on the Charity Navigator website for more information.

The acknowledgment of Room to Read's sound fiscal responsibility from Charity Navigator comes on the heels of the organization's recognition as a "high-impact giving" organization in Barron's2009 "25 Best Philanthropists" issue, ranking 11th on the list.