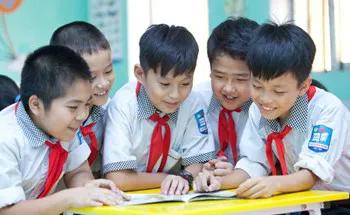 Learn about our work in Vietnam
Learn about our work in Vietnam
This month, we want you to meet two incredible Country Directors: Vantha Chea, who leads Room to Read Cambodia and Nuong Nguyen, who heads Room to Read Vietnam. Read on to hear their moving stories and learn why they chose to devote their lives to education.
Vietnam Country Director, Nuong Nguyen, with Girls' Education Program graduates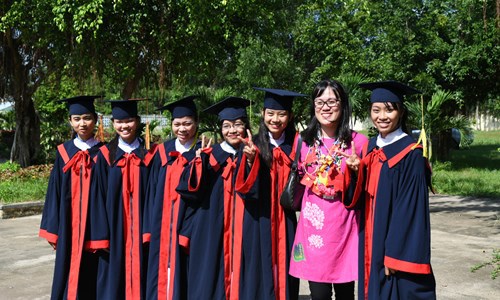 Tell us about your professional background. 
VN CD: I have been with Room to Read for nearly two years. Before Room to Read, I worked as the Director of Programs at Asia Injury Prevention Foundation for 5 years. I went to schools in high-risk areas to teach children of safe road behaviors, educate and engage teachers, parents, communities and local government in ensuring road safety for children, where our national campaign increased Vietnam's child helmet-wearing from 18% in 2011 to 68% in 2015. The national government adopted this campaign that year and turned it into an annual national action plan on child helmet use.
KH CD: I have more than 20 years of progressive experience working in the international development sector. Prior to joining Room to Read Cambodia, I worked at senior management positions in international and national organizations, including five years as Country Director of Voluntary Services Overseas (VSO) and Executive Director of the Advocacy and Policy Institutes (API), and above ten years served as Senior Education Program Manager for VSO.
Cambodia Country Director, Vantha Chea, with Literacy Program students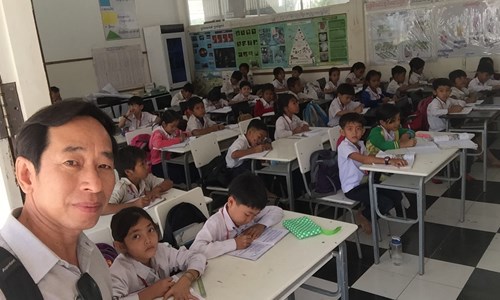 What kind of struggles do students in your country face on their journey to quality education?
VN CD: With deepening divide between urban and rural areas, the rich and the poor, school fees becomes a hindrance for the poor. For those poor families that migrate to big cities to earn a living, their children eventually drop out of schools. And as gender inequality is not yet gone, this also puts girls at a higher risk of dropping out of schools. Linguistically diverse ethnic minority children struggle with official instruction in Vietnamese by mainly Vietnamese (Kinh) teachers. This makes educational access and attainment even more challenging and distant for ethnic minority students. In general, Vietnamese students are still struggling with many challenges, such as lack of quality textbooks, reading materials, outdated curriculum, limited capacity of teachers and a lack of quality learning environment that fosters physical, psychological, social and emotional growth.
KH CD: There are several struggles Cambodian students face in mainstream classrooms, such as:
Low levels of reading proficiency among primary students. Almost half of grade two students were unable to read any familiar words. Some grade six students are unable to read phrases or sentences from grade two textbooks.
Low teacher capacity and motivation due to a lack of preparation and effective teaching training. Children also do not have access to a variety of learning materials and this poses the problem that nearly all children dislike reading.
Most instruction is very teacher-centric, and class time is unproductively used. Teachers spend very little time supporting struggling students.
The value of education and family participation is low. Cambodian families face hardships and inequities in education that put children at a higher risk of not accessing and completing primary education. This makes it difficult for children to receive the type of home-based support for reading.
There is a high drop-out rate for girls when transferred to lower and upper secondary education. The social norms and expectations can directly affect opportunities for girls to learn.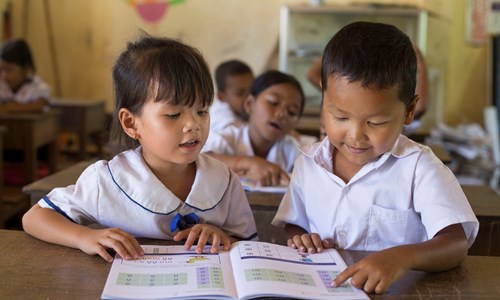 What is something most people don't know about you?
VN CD: I was very shy and timid when I was young, and bullied in school. I grew up learning to overcome my fears, become stronger and stand up against bullying by the time I got to Grade 10. And I could do this because I read and learned a lot from books. I was lucky my grandfather and father are bookworms. My room, a small attic, was used as their book storage place. So, I spent all the time I had in the world of books and didn't feel the need to go out. Honestly, there are still bits of shyness and introversion in me and I still have to take a deep breath and tell myself, "Be confident!" when I am put in the spotlight or talk in front of a crowd.
KH CD: I have survived the Khmer Rouge regime, where my parents and seven brothers and sisters died. I had never had a chance to hear from or see them before I lost them in late 1976. I became an orphan at 13 years old. I am a survivor who has witnessed what happened during the Khmer Rouge regime in Cambodia and who experienced some very terrible challenges in my life but has come through it, valued the education and studied hard to get a good foundation, and built a strong career.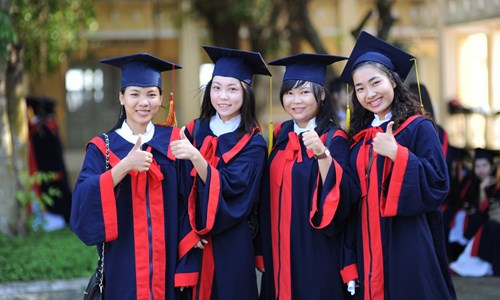 If you could recommend one book, what would it be and why?
VN CD: It's "Lean in" by Sheryl Sandberg. One of my mentors from the World Bank gave it to me and I am so grateful to her for this book. It is full of practical advice for women to be the best they can be and lead a fulfilling career and life. It is easy to read, interesting and persuasive because it was very well-written with candid personal stories, hard data and current research. I think women at any stage of life can find something new and useful for them in this book. I read it when I was already in a leadership position; it helped me understand clearly what I did right. It also got me out of the trap of trying to be a superwoman who can do it all. And as a working mother, I learned "guilt management" from this book. I became happier and more confident going down my path.
KH CD: A book that I would recommend is the "Anatomy of a Crisis: Education, Development and the State in Cambodia 1953 - 1998", written by David M. Ayers.  Despite being published in 2000 and covering the period 1953 – 1998, it gives a very clear insight into the background of educational development in Cambodia and how the legacy of the Khmer Rouge Regime affects educational development in the country today.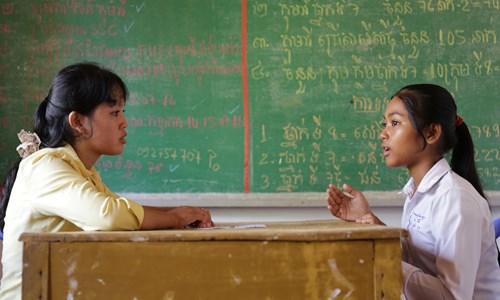 As Room to Read's former Program Operations Director, I imagine you may have experienced some special moments with children at project schools. Can you share a moment where you witnessed Room to Read's impact first-hand?
VN CD: I met Uyen, our GEP scholar in her home, which is a small thatched cottage at the back of a temple in a village of Long An. Her father died when she was 3. Her mother remarried and left her as she turned 5. She lives with her grandmother and younger brother. Her grandmother used to be a vendor, selling lottery tickets. As she got older and became seriously ill, she stayed close to home and helped the nearby temple with cleaning work in return for their support to live. Uyen's grandma never thought that she would be able to keep Uyen in school as she relied a lot on her to keep things going. Uyen did all the housework, tutored her brother and helped with cleaning for the temple. 
More burden fell on Uyen's thin shoulders a month before I met her, as her grandma slipped and got injured. Without health insurance, the hospital costs and struggles to keep food on their table became major concerns. I admire the strength of this 14-year-old girl. Life is tough and precarious for her, but she manages to keep a warm smile on her face. Her eyes light up when she talks about her dream to become an English teacher. In such a difficult time, she learned time management, task prioritization, spending/saving money, and how to reach out for help. Quitting was the last thing on her mind. I was overwhelmed with pride to see Uyen comfortably talk with visiting foreigners, ask them about the countries they had been to, and confidently say that when she becomes a teacher, she will do her best to have a chance to travel to those places too. I felt so privileged to be part of the team that has been with Uyen every step of the way, closely watching and supporting her as she strives to reach her dream.