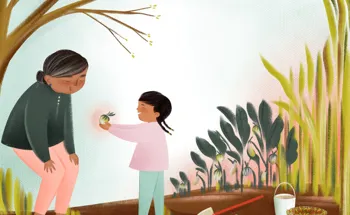 Read "Yă's Backyard Jungle"
Room to Read's Quality Reading Materials (QRM) team, along with the help of translators, have been working to translate our Peace & Equality Book Collection into Jarai, a local language of the Montagnard Jarai people, and a minority language in Vietnam and Cambodia. Author H'Abigail Mlo, who wrote "Ya's Backyard Jungle" for the collection, wanted her book to be translated into Jarai, in addition to Vietnamese, so that young Montagnard readers can enjoy the book.  
Originally from the Central Highlands of Vietnam, H'Abigail's parents and maternal grandparents immigrated from refugee camps in Thailand and the Philippines to North Carolina in the 1980s. H'Abigail now lives in Greensboro, North Carolina, home to the largest population of Montagnards outside of Southeast Asia. Today, H'Abigail is an author committed to telling the stories of Montagnard people. 
Once our QRM team translated "Ya's Backyard Jungle," they decided to translate the entire Peace & Equality series into Jarai so that Montagnard communities around the world can enjoy all the stories. The full collection of Jarai books will be available on Literacy Cloud in September.  
Publishing storybooks in minority languages is a key part of keeping local languages and traditions alive for future generations. Room to Read's expertise working with local authors, illustrators, publishers and printers to develop high-quality books quickly to meet specific community needs, irrespective of profitability, makes the organization particularly well-suited to tackle the lack of diversity and accessibility to high-quality children's books in minority language communities. 
We recently spoke to Room to Read staff members from our Literacy Program who have worked with minority language communities in order to gain greater insight on the importance of minority language book publishing.