Room to Read delivers physical literacy resources during school closures to over 500,000 children in Asia
Learning materials adapted to teach young children emotional, health and wellbeing skills to support them through the COVID-19 pandemic 
"It would be a devastating blow if in some of the places hardest hit by the pandemic, we then saw a rise in youth illiteracy rates, which would cripple low-income communities for generations to come". - Dr. Geetha Murali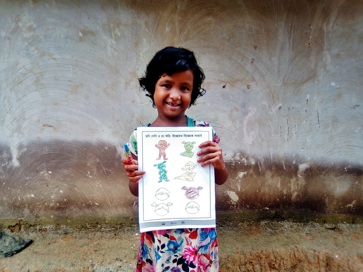 Room to Read, the global education nonprofit seeking to end global illiteracy, today announces it successfully delivered physical literacy learning resources to half a million children in Asia during 2020's COVID-19 school closure.  
Room to Read has accompanied this mass delivery program with coaching for parents on how to teach literacy skills to young children at home. The organization sends videos from teachers to parents, as well as messages to parents via social media, phone calls and SMS. 
Schools remain closed in India, Bangladesh and Nepal, with partial school closures still impacting other countries in Asia including Sri Lanka.  
Room to Read fears illiteracy rates may rise for the first time in two decades if children in Asia are not supported in the coming months with additional deliveries of physical materials.  UNESCO reported at least half of all students not in school during the pandemic had no access to household computers or internet, yet this figure will be significantly lower in Asia's low-income communities, where families lack financial resources. It is these communities where schools remain closed. 
Meanwhile, with education budgets around the world facing cuts in the wake of the pandemic, Room to Read believes physical workbook deliveries, which include storycards and other materials such as pens and pencils to ensure children can learn at home, have become more urgent than ever before. 
Dr. Geetha Murali, CEO of Room to Read, heralded the new milestone achievement: 
"It would be a devastating blow if in some of the places hardest hit by the pandemic, we then saw a rise in youth illiteracy rates, which would cripple low-income communities for generations to come". 
"We are delivering hope through the doors of children desperate to learn and make a better life for themselves and their families. The enormous scale of Room to Read's response and the herculean efforts of our dedicated teams has ensured education endures for the children who need it the very most. 
"Physical worksheets, story cards and books are the only source of learning some children can rely on during school closures." 
Meet Nagris, a mother in Cox's Bazar, Bangladesh, using Room to Read resources to teach their children 
Cox's Bazar is a region where schools have been closed since March and are unlikely to be re-opened until 2021. Poverty rates in the region are amongst some of the highest in the world and access to household internet is far below global averages.  
Nagris, describes what these deliveries mean her daughter, Mahira: 
"My daughter becomes excited when she finds new materials being delivered to our home. I think, crayons attract her the most. She starts drawing right away. The other materials are also helpful for her to learn letters and practice writing them.  
"School is closed. Had it not been for Room to Read, I can't imagine what I could have done to keep her education going – to keep her enthusiasm alive."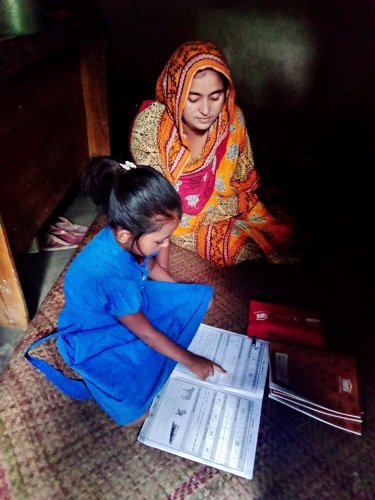 Room to Read has adapted its local language story books into printable story cards, so thousands of children can enjoy new stories to read each week through their letterbox. As well as stories to read, worksheets include activities to help children learn key literacy skills which allow them to graduate to the next level of schooling. To assist worksheet tasks, Room to Read ensures deliveries in some areas include new stationary, such as pencil and pens, to use at home.  
The stories delivered include can lessons in key emotional and health wellbeing skills to help children overcome stress or unease they may face as the pandemic continues to impact their community.