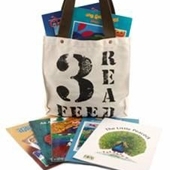 Room to Read and FEED Projects, whose mission is to create good products that better the world, today launched the FEED/READ 3 bag to support the nutritional and educational needs of millions of children in the developing world.  
The collaboration began when Room to Read Founder John Wood and FEED Projects Co-Founders Lauren Bush and Ellen Gustafson met at the Clinton Global Initiative in 2008. In Room to Read, FEED Projects found a partner to help create a special FEED bag that would include a donation for global education programs. They joined forces on an innovative fundraising campaign to provide healthy meals and educational books to children who lack these basic necessities in the developing countries where both organizations operate. The bag, sold exclusively at Barnes & Noble stores nationwide ($24.95) and online at www.bn.com, was launched as part of New York's Fashion's Night Out celebrations at Barnes & Noble's Fifth Avenue location (46th Street). 

For every FEED/READ 3 tote bag sold, Room to Read and FEED Projects will support three local language children's books published by Room to Read and three school meals for children through the United Nations World Food Program's School Feeding Operations. There over 75 million children not attending primary school (55% of which are girls) and 96% of those children are in developing countries. In addition, 50 million hungry children are not receiving any form of food aid and when children are given a free, nutritious school meal, attendance increases by 100% and academic performance improves greatly.

"Food and books are such basic ingredients to any school day that it is hard to imagine that millions of children around the world lack these essential tools to develop a healthy mind and body," said Lauren Bush, co-founder of FEED Projects. "That's why we are proud to partner with Room to Read to address this important humanitarian issue by launching the FEED/READ 3 bag product awareness campaign."
 
The FEED/READ 3 Bag is one of the latest products in the growing FEED line that now includes eight different bags.
"We are excited about our partnership with FEED Project because it means that millions of children will experience the joy of a full belly and the love of a good story book in their own language," said John Wood, Room to Read Founder and Executive Chairman. "The FEED/READ 3 bag is a unique way to engage people in a product purchase that will change lives. It's no secret that healthy, educated children are the best weapons against the continuous poverty in the developing world."