Support Literacy Program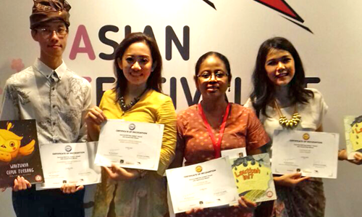 We're proud to report that three partners who participated in book publishing workshops held through Room to Read Accelerator in Indonesia have won the grand prize and additional four top awards in the Samsung KidsTime Authors' Award competition. The awards were given to titles developed by our partners as part of our first ever Accelerator project launched in Indonesia.
Presented at the Asian Festival of Children's Content (AFCC) in Singapore, the prestigious awards are part of a joint initiative between the National Book Development Council of Singapore and Samsung Electronics.
As Room to Read's reputation as a thought-leader in the field of global education has grown, and evidence supporting our programmatic approaches has mounted, we are increasingly asked by governments, non-profits and investors to share or implement all or parts of our successful model in a variety of contexts. As a result, we established Room to Read Accelerator, a technical assistance arm that is set up to disseminate our knowledge in literacy in the primary grades and girls' education to a wider audience, thereby, maximizing our impact.
The focus of the Accelerator model is to offer technical assistance and share our expertise and resources with partner organizations through the provision of training materials, workshops, periodic support and monitoring, in an effort to maximize the quality of implementation and, in turn, replicate our work.
Room to Read Accelerator partnerships are currently underway in Indonesia and Grenada, as well as Tanzania, India and Nepal, where we also offer direct program implementation.
During the two-year publishing project in Indonesia, Room to Read Accelerator trained Indonesian authors, illustrators and publishers in the organization's time-tested methods for developing high-quality children's books. Out of the 15 titles the effort produced, six received awards.
The grand prize winner, Lautkah Ini? (Is This the Sea?), tells the story of two animated raindrops and was illustrated with colorful batik designs. The author, Yayasan Literasi Anak, also won second place for Waktunya Cepuk Terbang (It's Time for Cepuk to Fly).
In addition, the author Litara won three second place prizes for Mantel Emas (The Golden Goat), Kue Ulang Tahun Widi (Widi's Birthday Cake) and Ketika Gilang Ingin Seperti Kak Sita (Gilang Wants To Be Like His Big Sister). The sixth award went to Mizan for the illustrations in Datang Lagi Ya! (Come Again, Will You?), now on display in the AFCC's Book Illustrator's Gallery.