Five years ago, we were introduced through our Girls' Education Yearbook to Prem Kumari, then a student in Room to Read's Girls' Education program in Nepal. She had just passed her School Leaving Certificate exam and successfully finished grade 10, a significant milestone for students in Nepal. We recently caught up with Prem who has since graduated high school and is now studying to become a nurse.
*****
Like most families in Pokhara, Nepal, Prem Kumari's family earn a living mining and selling sand from the Seti River. But Prem and her sister are charting a new career path, thanks to Room to Read...and hard work. 
Through the Girls' Education program, both sisters attended secondary school which would otherwise not have been an option due to financial strains. In 2008, Prem became the first girl in her family to complete 10th grade, a prerequisite for students to pass in order to continue onto Nepal's higher secondary school (considered 11th and 12th grades).  At that time, Prem had told us she had hoped to become a teacher.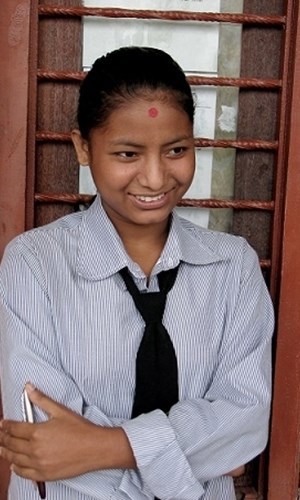 Prem's future path changed course during her final year of higher secondary school when sadly, her father became ill and passed away due to an inability to pay for medical care. It was then that Prem became determined to use her education to make a difference in the healthcare field and she set her sights on continuing her education beyond high school to become a nurse. While her training could not help her family, it might at least be able to help families like hers should they find themselves in need of affordable care.
Prem and her sister are lucky because their mother, Maya, has always been a vocal advocate for their education. "Seeing children become literate and educated is the greatest gift any parent can give," she says. "We work very hard to ensure that all our children receive an education. With it, they will surely have a more capable life."
Prem is now a second year nursing student at Dhulikhel Teaching Hospital, one of the most reputable teaching hospitals in Nepal. Getting accepted, however, was not easy. After finishing higher secondary school, Prem began diligently preparing for the entrance exams to nursing school. "I prepared a lot. I was afraid that my weak foundation might hold me back in the exams," she says.
Prem was able to overcome her fears and applied to three prestigious institutions, including Dhulikhel Teaching Hospital and of course they welcomed her with open arms. "It was a dream come true," she says. "When my sister informed me about the result, I jumped for joy! It was the happiest moment of my life."
Despite securing her position in the college, her initial fear of failure slowly crept in. "It was difficult initially," she says. "I had long hours of hospital duties, equally taxing classes and by the end of the day, I was very tired. At the back of my head was a nagging feeling that I might not succeed." 
Prem dealt with the fear of failure by working hard and persevered until she was finally able to cast her fear aside. "I feel very comfortable now," she says. "The atmosphere is very inviting, and I have great friends." More importantly, Prem has her dreams to hold onto.
"If Room to Read had not supported my education, my dreams of getting educated would have been washed away by the Seti. I cannot let fear stop me from achieving my dreams," she says.
Learn more about our work in Nepal and our Girls' Education Program.