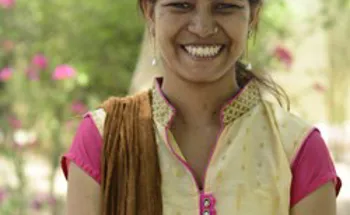 Home to more than a third of the world's illiterate population, children in India struggle to access quality education. Yet, for girls in rural regions, the likelihood of pursuing school drastically decreases. Like 47 percent of girls in India who marry before the age of 18, Madhu felt trapped by the thought of her future, rather than inspired by it.   
Social mobilizer, Madhu,and a student in the Girls' Education Program
Raise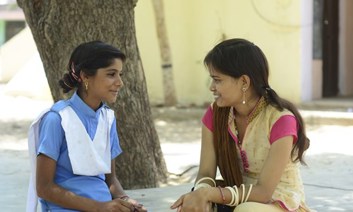 d in a remote village in Rajasthan, a state where more than half of its 32.9 million females are illiterate, Madhu was not expected to go beyond primary school. Due to her rural location, the closest secondary school was six km. away – a distance deemed too far for her to travel.  
Shortly after, her parents insisted she get married. Visions of her future immediately narrowed as she had recently watched her cousin forced out of school and into marriage.  
Longing to study further, she hoped for a different path. Yet, no one in her family, including her elder brother, had been allowed to finish secondary school. When Madhu tried to speak up for her dreams, he counseled against them with, "They did not allow me to study after class 10, why do you expect they will allow you?"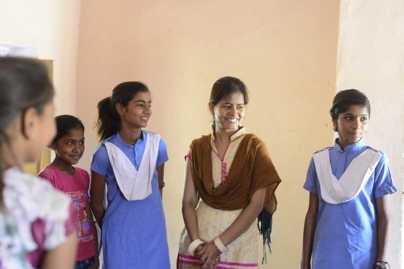 Amidst her discouragement, Madhu had the opportunity to enroll in Room to Read's Girls' Education Program in 2007. There she found Aruna 'didi', her social mobilizer and mentor who helped develop confidence in herself and her potential. 
"Didi encouraged and appreciated our thoughts and ideas," said Madhu.  
Mentorship paired with life skills sessions helped her garner invaluable skills such as, decision making, goal setting, time management and effective communication. With these new tools came a new approach to life. Within just a few months, Madhu's academic performance had sky rocketed.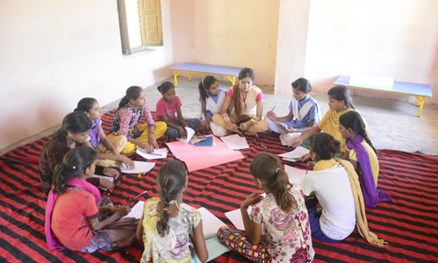 Yet, the fear of a forced marriage still suffocated her dreams. Week after week she headed to school haunted by the day she'd be ask to drop out and wondering if she'd be able to stand up for herself when the time came. One morning, her father approached her and said,  "A girl who will eventually stay at home, has no need for higher studies." Her dream of establishing her own career came crashing down.  
Fortunately, fate had something different in store. Her social mobilizer and Ramesh, Room to Read's Girls' Education Program Coordinator, went to Madhu's home and convinced her family to let her continue her education. When that didn't work three school teachers reached out to her parents. The school community persisted and though it was no easy feat, with time Madhu's family finally relented.   
"It would be unfair to say that my passport to success was solely my effort," said Madhu. "The support from the Girls' Education Program paved the way for me to successfully pass my final examination in Grade 10."
Completing secondary education was the turning point in her life; however, turbulence continued as her parents continually pressured her to marry. Time and time again she applied lessons honed from her life skills sessions and negotiated with parents firmly rooted in tradition.
Nearly eight years later, Madhu is the first girl in her family to graduate with a Bachelor's degree and is currently awaiting her Master's degree. Now married on her own terms at 23 years-old, Madhu works as a social mobilizer for Room to Read, where she mentors 50 girls across three different schools. Gifted with the opportunity to pay it forward, she's committed to help each young woman forge her own path as she did.  
"I'm determined to encourage and guide the 50 girls I'm looking after until they recognize their true self and fulfill their dreams," said Madhu. 
Madhu's story epitomizes the promising ending countless Indian girls hope for, yet only a fraction receive. Thanks to generous supporters like you, Room to Read's Girls' Education Program has benefited more than 11,253 girls in India. 
You can help us encourage more young women to get active for their own education by becoming a game-changing, monthly contributor today!