Third grader Gagan is never seen without a book in his hands. When he walks around the library, he always has at least one in his hand---yet his eyes continue to scan the shelves for other colorful books just in case he is tempted by other titles. As a habit, Gagan loves to check out the heaviest books whenever he comes to the library, and this time was no exception because he was preparing for a special visit that evening with his grandfather.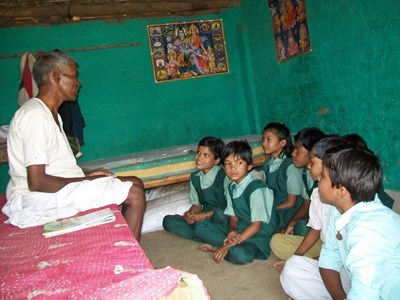 Gagan attends Shaskiya Primary School in the Amagohan village of the Betul District in India. The school's point teacher, Anjana, is keen on promoting reading habits and often encourages her students to take books home to read.
She was at first confused by Gagan's unique taste in books. "Gagan would often take books which were not only heavy but what I thought might be beyond a third grader's comprehension. But when I asked him about the books, he could always narrate the stories in detail. That's when I knew these books were going beyond the walls of the library into the hands of someone who could help Gagan appreciate their value," she says.

Indeed, the heavy books Gagan was checking out were going to his grandfather, seventy-one year old Madan Singh Navade. Poverty pushed Madan to work in the fields from a very early age so he barely managed to complete fifth grade. However, Madan always had a love for books. By reading the colourful story books from the Room to Read library, Madan has been able to relive his lost childhood while spending quality time with his grandson.
"It fosters a feeling of ownership among the community & helps promote the habit of reading."AnjanaTeacher, India
"My grandson Gagan is lucky to have been exposed to the world of books at such a tender age. We bond really well thanks to the interesting stories which Gagan loves to listen to. I love reading to him and his friends," Madan says.
Madan's enthusiasm for promoting reading habits among the neighborhood's children allowed him to participate in the school's street play highlighting the importance of reading. With only two teachers to support the 80 students at Shaskiya Primary School, contributions and encouragement from village elders and family members like Gagan's grandfather is needed. "It fosters a feeling of ownership among the community and helps promote the habit of reading," says Anjana.

As Madan sits down with a book from the Room to Read library, kids from all over the neighborhood huddle around him, eager to listen to the story. For Gagan, these stories weave a world of possibilities which push him to achieve his goals. "I will never stop borrowing books from the library," said Gagan. "My teacher helps me read in class and if my grandfather ever becomes too old to read, I can then start reading to him."
Learn more about our work in India.